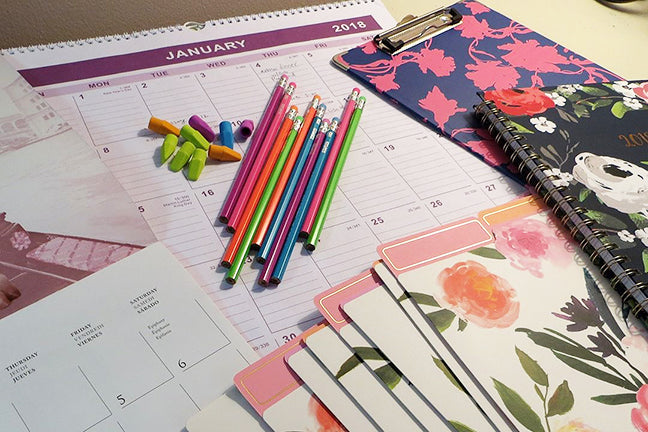 What a great year we had in 2017!! It was truly our best year yet in so many ways!  We had great success with our craft show schedule, launched a few new products (poster calendars, prints, and printed seating charts), and our wedding business is thriving!!
I love kicking off the new year by cleaning out my office (out with the old...and in with the new!). And my love of cute items to dress up my little studio continues!  These fun decorations make me smile.  Bob really outdid himself this Christmas and picked up so many good ones.  Here are a few of my favorites!
Floral clipboard, planner, folders, and colorful pencils, and erasers!  All these are so old fashioned...I know...we should be doing it all digitally, or so I am told!  But to see things in writing and to be able to keep it all right in front of me at my work space makes more sense!  Of course the little note pads are a must-cupcakes :)  and I love this pig calendar my Mum gets for me every year.  When anything is cute...we call it "cute pig" so it's a perfect choice for my studio.  Of course I need the full size calendar for the desktop to put my tasks for everyday right in front of me.
We have this great little shop in Greenland called Whims and Whatnots. They actually carry our cards and maps too!  Bob found a few fun items for me there this Christmas...this sweet lovable little owl named Oliver for one!  Then we have a little tiny owl perched in the back with "one day at a time" as a friendly reminder for me.  The fun plaque was an anniversary gift last year, and I also love the trinket dish in the foreground holding paperclips. That was a gift from my dear friend Angelique a couple of years ago!
Yesterday, my good friend Rachel and I headed to Portland for a post Christmas shopping day!  We had an awesome time...I love visiting my Mum's shop, Visibility...then of course a pit stop at Lush and Anthro were also in order!  As a last minute decision after dinner, we decided to stop at Home Goods on our way out of town!  I'm so happy we did!!  I used some Christmas money to bring home Madeline!  She is so adorable and perfectly fits in with my fun and colorful studio decor!  She was created by my new favorite artist, Christine De Carvalho of Darling Lola Designs.
When Bob painted and re-worked my studio space earlier this year, I had no idea what a positive impact it would have on my work!  I love being in here every day!  It's so beautiful and comfortable. It's such an inspiring space because most everything in here has a special meaning to me.   I can use my computer desk either sitting or standing as I can with my calligraphy desk as well.  I'm so excited to see what the New year will bring. Happy New Year everyone! And thanks so much for being a friend of El's Cards!
xoxoxo
El & Bob