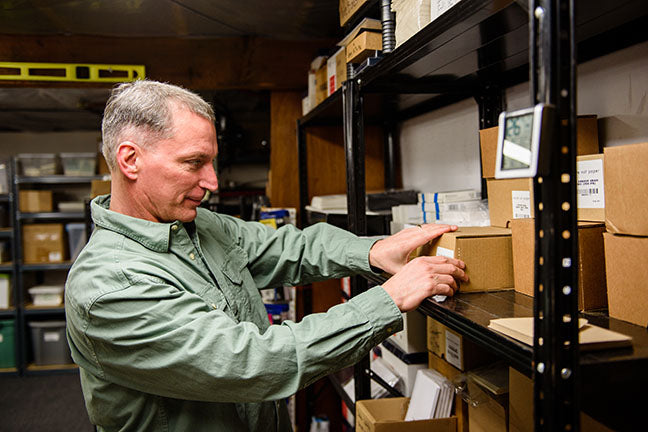 Artisan Market Season in our area seems to start in or around April.  We have done some shows at that time of year and they were held indoors. The Artisan Market really becomes popular when the good weather comes our way, and the vendors show up like a gypsy caravan with all the tents and colorful products.
We were encouraged in 2010 to participate by an artist friend who had good luck at these shows, selling products and networking with other vendors. Our first Artisan Market was in New Castle NH, on the lawn of the local church. It was located on a main road through town and anybody passing by could see all the activity. We did very well and had a fun time. It was a hot day in June.
The El's Cards van in all its glory!  So many great adventures in the van.
Over the last few years, we have participated in several shows in the spring and summer.  It was so nice to be outside in the good weather and interact with customers and vendors. Seeing some of the vendors every year really creates a nice small community. We hope all our friends in the art and craft show industry have been safe and are able to continue selling their beautiful products.
This is at the Freeport Fall Festival at L.L. Bean.  We were set up by the kayaks.  And it was one of those chilly October days-hence the warm hats.
October has always been the wild card for outside Artisan Market shows. You just do not know if the weather will be friendly or brutal. We have had perfectly delightful days with the temperature in the high 60s- or overcast, cold, and windy in the low 50s. It is always an adventure. It is funny how you remember fondly all the trouble that comes with any situation.  It seems the more things go wrong the funnier the story is in retelling it.
As the season progresses the Artisan Markets all take place indoors, and the closer to the Christmas holiday, the more festive the events become. We always  look forward to seeing all the vendors, artists, and the happy customers, recognizing familiar faces at every venue- and Ellen always remembers their names and items they may have purchased in the past.
Wells, Maine in 2019.  You can see the wedding book on the table where Bob is standing.
We are so lucky to have some of our clients from our Wedding invitation business live close enough for them to visit us at the Artisan Markets. We have been so fortunate to meet many first-time clients at the Artisan Markets.  We bring along a Wedding Invitation sample book. When the customers are done shopping our booth, gathering all their retail products, they see the wedding book on the table and the conversation starts up about who is engaged and the date of the upcoming wedding.
It feels good to look back on many years of craft show memories, with many years of happy memories still yet to come. We know that this year, this moment in time, is not what we would like it to be. But we know it will not be forever. I think of the expression of optimism in the phrase "this too shall pass". We will wait together to get through these uncertain times.
Photo by Melissa Mullen Photography
We have not been waiting around for long. Our website has become our Artisan Market booth for the 2020 season. We have always had our retail products on the website for immediate purchase. We, and I mean Ellen, has been hard at work creating new artwork and developing new products: notepads, floral stickers, greeting cards, art prints, and beautiful cotton Tea towels. The products are on display and ready to sell to our faithful and valued customers.  We are also rolling out a couple of Christmas card time savers, new holiday designs, and have planned a great special every week from November 1st through December 19th.
Photo by Melissa Mullen Photography
I have been working on the Sale page-full of items that we would normally take to an Artisan Market. Some of the products are one of a kind, made just a little different to create an interesting and colorful display for our booth space. We are also offering frames for the maps, calendars, and art prints. We find that the customers at the Artisan markets enjoy buying a complete gift for friends and family, and the frames enhance the gift.
Our goals this year have been redirected.  We are still offering our friends and customers the best products and services we can. It will just be different, and we are ready for that. We will deeply miss seeing all of you over this upcoming holiday season. We are holding on to all the fond memories from years gone past and are looking forward to new adventures in the future.
Thank you for all the continued support.
Bob