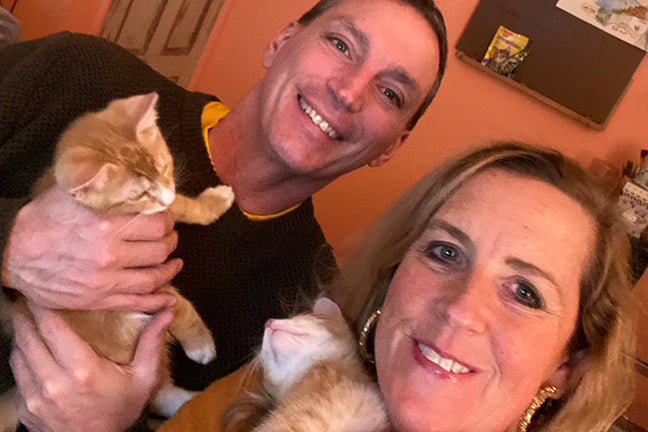 What a year it has been, that is an expression that will get overused quickly. Who could possibly explain all the challenges, obstacles, defeats, and victories of an entire year? However, I am aware of the tragedies that many have faced. I hope people have come together with family, friends, and faith to find comfort.
We, our El's cards work force, have two new members of the crew, Marty and Sundance, kittens we adopted back in December. Their arrival was a bright spot in our 2020 calendar year. I am sure people have become quickly acquainted with their cute little kitten faces from all the pictures Ellen has taken and posted. 
We have begun this year with a hopeful outlook, it is in part because of the last quarter of 2020. We had an awfully slow year, so we really put effort into more products and designs for the Holiday season. All the work paid off. Our  customers came looking for us and found many items for their holiday purchases. We were busy!
If hard work was the only ingredient for success, many people would do well.  It is the obstacles and the unforeseen circumstances that can derail progress.  We were so ready for the last quarter push, it felt like we were back to normal. I say that only in a work capacity. At the beginning of the lock down, I wrote about our normal workday not being much different from before the pandemic. We are both hard workers and we stay on task, breaking only for lunch and sometimes returning to work after supper. So, when the work slowed down it was important to not think that we had become lazy or disinterested. It became a time to think, review the successes, let the gratitude sink in, and plan to continue the good works.
I have managed to find more storage space in my work area. I have written before about this subject and reviewed my own advice. I do not want my workspace to be a series of tunnels like you may have seen on a show about hoarders. I like an open feel to the area, but I was able to increase the width of some shelf space and not impede on the openness of the area. I also discovered that a shelf system I had built was a little wobbly, so I was able to cut and apply some braces. While in that area I removed a large shelf unit and replaced it with a smaller unit that fit better into that space and created a more open feel. Having a good orderly space to work in is key to my success. If the area is cluttered, my mind feels cluttered.
Sometimes a small project like the shelves is a good distraction. We have learned that it does not help to worry too much about the future. It will arrive whether I worry or not, so in the meantime I like to do something productive. Getting my work area ready leads me to be hopeful and optimistic for the year ahead.
And the good news continues, we are getting more work, people are planning more events, and Ellen has been creating some beautiful new products. So, it is not time to dwell on what we do not have at this moment, it is time to get ready for all the blessings that are coming down the road.
I hope all is well with you.
Thanks for checking in with us at El's Cards.
Bob
Top 3 rows of photos by El. Bottom two photos by Melissa Mullen.