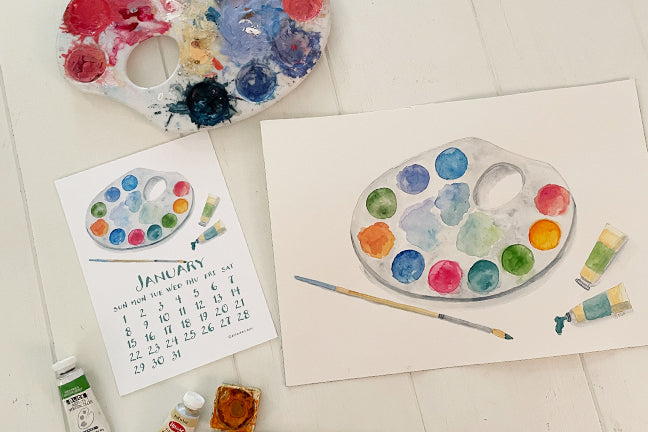 It's that time of year!  And I am SOOOO pleased to roll out our NEW desk calendars for 2023!  What a great year 2022 has been so far.  Looking around when shopping, I was already seeing calendars and figured I should get my act together so we are excited to be launching our new "The Sea" and "A Colorful Year" desk calendars once again!
So many new paintings!  The creative time is absolutely my favorite time.  I had so many ideas for new artwork this year and really went to town for these new calendars.  As you know...all are hand painted in my Greenland, NH studio. Sometimes it's a messy place-compared to Bob's workspace.  OK...all the time it's a messy place!  But that's how I work.  
Some of you may have seen a few paintings in process on social media, and I want to share a few of them with you here also.  Some were inspired by special things...so here goes!
My paint Palette-mine is messy...this one is neat ;)
Our trip to Boston and the Aquarium visit inspired this one!
I've never done a sperm whale so now I have!
Curtis Island was inspired by our trip up to Camden, Maine for a show!
Raspberries...we used to have them in the backyard and I love the color!
 This bookshelf has been on my mind for awhile as a painting....and just wait!! Something special will be coming out of this painting too. Stay tuned for more on that!
And a few more too!  For this special calendar early launch we are doing something special...one full size greeting card FREE with every desk calendar purchased. NO coupon code necessary...just put the card in your cart and it will be discounted.  Special goes through this Sunday, July 31st. NO limit :)
We hope you love the new calendars as much as we do!
Have a wonderful day and stay tuned for MORE new artwork coming soon :)
xoxox
El & Bob