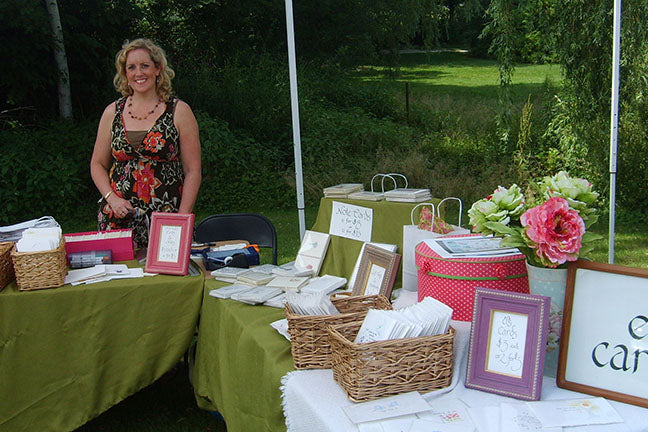 On to our next 4 things I have learned in 20 years!
13.  Allow for a learning curve-and charge appropriately for level of experience-When I was first starting out, I had a lot to learn.  I knew the basics but needed to build my portfolio.  Even though my calligraphy skills were strong, it was a new business and I needed practice.  I wanted to keep my prices reasonable so I could put some jobs behind me and feel more comfortable with what I was doing.  The pricing for invitations was very fair, especially considering each and every card was painted by hand.
When I started creating custom wedding maps in 2009, I was unsure of what to charge at first.  For many years, I charged a flat rate.  I think they started at $200 each, no matter how long they took me to create.  And often to create a custom map, it easily took me over 10 hours.  But again, to grow my portfolio, I needed to get a few maps done to show people some past examples. So it was a learning curve. 
Now, I have done countless wedding maps.  My rate reflects this.  My experience is now vast, and because I have been doing them for so long, I have really perfected  my map creation process.  They are now done at my hourly rate and clients are charged for a minimum of 8 hours of work. This is the average time it takes to complete a hand drawn and painted map.
As time has gone on, I have gained experience and my work has improved.  It has been important for me to have time to practice and really become comfortable with all the different things that I do.  People aren't only coming to me for the product, but I have been told they come to me because I have many years of experience in my field.
14. Contracts are a necessity- As we have gotten busier, this fact has become a reality for us.  The contract keeps everyone on the same page. It sets down timelines and helps keep both me and the client on track.
Since we are dealing with many clients at one time, it is important to have a check and balance system for everything that is coming in and going out.   Having a contract with timelines helps me to do this.  Because there are so many moving parts with wedding stationery (due dates for text, drafts, guest list, etc.), having a  contract gives accountability to both me and the client.  For us, there is a lot of back and forth and careful planning to allow for the best possible products to be created.
Before sending the contract to the client, I mention what the highlighted sections mean and where I need initials and signatures.  Our contract was created by an attorney and is full of legalese, so I find it is helpful to explain what some sections mean.
Having a professional contract created by an attorney was a must for us. After having a couple of experiences where my images were stolen, it just gives me peace of mind. It is also helpful for the client, because I need to hold up my end of the timelines too.
15.  Display matters!-Ah...this is a good one! I love this photo from my first craft show ever.  Circa 1999, and my friend Al built me this tent from PVC piping and cinder blocks!  Note the little cutie in the foreground.  That's my niece Jenny who is graduating from Michigan State this weekend!  So this show was a long time ago!

And I have learned so much since then.  What is that sign in the background?  My "branding"?  Who knows!!  But it's nice to be able to see the improvements in our display from then until now.   Looks like I used clothesline and clothespins to hang the cards which were all individually painted by hand at that point.

On the cover shot, you can see our first show together in New Castle, NH.  That was truly an early example! Baskets, hand written signage, a bit of a hodge podge!  We were so excited after the big debut of our New Castle map at that event.  A beautiful setting and to this day, that is one of our favorite shows.  And one of the only summer shows we still do. 

As time has gone on, we have added card racks for our single cards. As more maps were added to the maps collection we added a vintage shutter that Bob hinged together to display our framed maps. Over the years we have added more and more interesting details to our craft show booth, and it has paid off.  Our experience has been, the more heights of display and variety shown in the booth, the busier we become.  

Having a booth that is well put together has made all the difference in the world to us.  Last year we bought what I like to call "The Cadillac of Tents"!  Our booth is so inviting and colorful. And our sales reflect this attention to detail.It didn't happen overnight. We have been doing craft shows regularly since 2010, and each year we have added something new, whether it was a larger card rack, or a more effective method of transport for our other paper goods.
16. Put yourself out there!  From the very beginning of El's Cards, I have never been afraid to put myself out there. Well, let me rephrase.  I should say, I have always put myself out there.  Often there was a LOT of fear involved.
But nothing ventured, nothing gained. I had a lot of moral support in the early days, but not a lot of financial support.  There was no advertising budget, and at the time there was no such thing as social media (maybe Myspace....??).  A grass roots approach to promoting my business was my best, and only direction.
One of my most successful ways of promoting my business was at my health club in South Boston.  I would sit in the lobby of the club a few days before a holiday like Valentine's Day or Mother's Day, and hand paint cards for the members.  After I had done this for a few holidays, it was not unusual for one of the gym members to see me when going in for a workout and say to me, "What's coming up?!"  I would mention that Valentine's Day was the next day.  And would 9 times out of 10 sell at least one card!
I remember one of my best days there, I sold 125 cards for Mother's Day.  It was the Friday before the holiday and everyone seemed relieved to see me sitting in the lobby. Days like this were really validating when I was just starting out. Everything was painted by hand at this stage of the business, and messages were hand written in calligraphy. 
Another favorite place to sell the cards was at the Boston Fire Houses.  My friend Mike was on the Boston Fire department, and he invited me down to his station house before one Valentine's Day to provide cards in case any of the guys had forgotten this upcoming holiday.   Several of them had....so began a little El's Cards tradition.  I would start at one place, and they would call another nearby station and ask if anyone needed cards.  Of course they did....so off I would go.  Many of the firefighters also went to my gym, so they would always put in a good word for me if there was a skeptic.
I recall one time I was downtown at one of the larger stations sitting at the table writing out cards for Mother's Day.  Suddenly, the alarm rang....they had to go out to a fire. Of course I said I would leave immediately, but they asked me if I didn't mind waiting for them to come back. This alarm apparently came from a place that often had false alarms.  So, I took a chance, and the guys were right.  They came back soon after and I was glad I had waited.
Over the years, many of the firefighters used my services for wedding calligraphy when they got married, and special custom cards and projects.  I met some really great people by swallowing my pride and putting myself out there.  Sometimes I felt silly when I first went to the door and rang the fire station doorbell, but my perseverance paid off most of the time.
Thank you for reading this post.  If you missed Part 3, check it out here.  And Part 5 is now available too!
xoxo
El