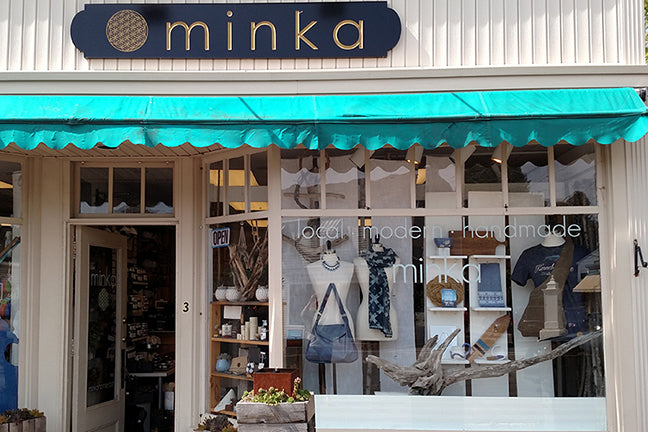 I was happy to meet  Michelle Rose of Minka in Kennebunkport, Maine, a few years ago while working together on a styled photo shoot for Seacoast Weddings magazine.  She has a great eye for detail and I loved how she and Geneve Hoffman brought the flowers and all design elements together for an incredible magazine feature.
Last year, when Michelle contacted me to create some prints and cards for her shop, I was thrilled!  Michelle and her husband, Chris Larochelle have a fabulous gift shop in Dock Square, Kennebunkport.  And since I grew up in Kennebunk (KHS grad-Go Rams!!), I was especially happy to be creating some custom artwork to be offered exclusively at Minka.
Michelle and I sat down together and talked about her ideas. I set to painting the designs and we came up with a great variety of prints and cards for Minka.  Some of my favorites are the moose antlers with blueberry branches, coral lobster with wreath and flowers, and the owl with pine boughs.  The Minka prints are all unique and fun.  They can be grouped together or displayed individually.  Of course there are note cards and place cards too.  To name a few, there are lobster buoys, oyster shells, and this year we added succulents thank you notes.  And they are all offered exclusively at this central Dock Square location.
Yesterday, Bob and I took a beautiful drive up the coast and got some lunch on the way to Minka.  We had been wanting to stop by and see what they have going on there this season...so many interesting and fun items!  And while we were there, we dropped off an order with all of this year's new print and card designs.
I love the way Michelle has the shop set up.  Everything is by color and is truly an eclectic mix.  Most of the beautiful gifts offered are designed by Michelle in collaboration with her team of artists.  Some of my favorite items are the exquisite leather bags (hint, hint, Bob!),  and the collection of birch pottery vases. 
Michelle also has her own line of skin care and bath products and unique, fabulous jewelry. Chris is a truly gifted artist, and there are many of his original paintings sold in the shop.  He had done a photo arrangement of coastal details that was behind the counter that was so unique and colorful. 
And one of my favorite aspects of Minka is that Michelle and Chris are a team!  It is so inspiring to see other couples working together and running a successful business.
Minka has a few of our map styles in the shop:  Maine, Kennebunk, and Kennebunkport....in addition to all the custom cards and prints.  We are so excited to be a part of this wonderful, growing business. Thank you so much for including El's Cards in your unique and beautiful shop!