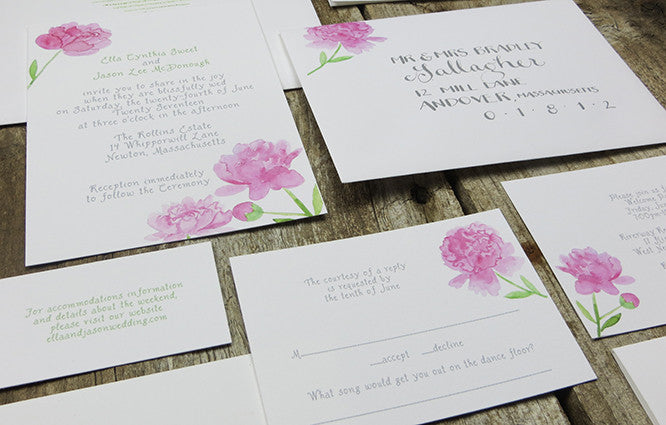 You've sent our your Save the Date cards and all your guests are buzzing about the wedding.  Now it's time to order your wedding invitations!  What do you need?  There are some pieces of information that are absolutely imperative to pass on to your guests.  This list breaks it down for you, piece by piece!  The starred items are your "must haves". 
Peonies are in bloom right now!  SO.....I am using the Pretty Peony invitation as our example suite.
**The invitation should include the following:
-Names of the bride and groom
-Names of the hosts if other than the couple (traditionally parents of the bride)
-Ceremony day of week, date (including year)
-Ceremony time
-Location (including address) 
**Outer envelope with the host's return address printed on the flap of the envelope
**The reply card should include:
-Reply by date
-Line for the guest to write their name
-Reply of "will attend" or "unable to attend" in one form or another
**Reply envelope with the host's address printed on the front and a USPS stamp
**The reception card should include:
-The location of the wedding reception (including address)
-Time of reception (or "immediately following" the ceremony)
-Breakdown of the celebration if necessary- Cocktails will be served at 4, Dinner at 6, Cake and Dancing to follow
**Note: if the ceremony and reception are happening in the same place, a simple line "Reception to follow" can be included at the bottom of the invitation in lieu of a separate reception card.  If the reception is at a different location, it needs to be treated as a separate event and have it's own card.
You may also want to include the following:
A details card is a small card (business card size) where you can list your website and remind people where they can book their accommodations.
Enclosure cards with information to other wedding events (Welcome party, Rehearsal dinner, After party, Brunch or breakfast).
Weekend schedule of events-if you have a number of activities to involve the guests all weekend, it may make more sense to include a schedule of events card.  These are larger than an enclosure card and you can provide more details about what is to come for the weekend celebration.
When ordering your invitations, think about your timeline for mailing.  Typically, invitations are sent out 6-8 weeks before the wedding.  If it is a destination wedding, you may send them out two to three months before the wedding.  It seems a trend lately, to send the invitation much earlier than necessary.  If you have mailed a save the date card, you will truly be OK if you send your invitations 6-8 weeks prior to the wedding.  People are already excited about it and know an invitation will be coming!
If you plan to hire a calligrapher to address your invitations, be sure to order them early enough so they will have the time they need.  Typically, calligraphers will ask to have the envelopes in their possession for 2 or so weeks to have time to get the job done.  Be sure to reach out nice and early though!  Time can really get booked up.  Order extra envelopes too.  When I do wedding calligraphy for clients, I ask for 20% more envelopes than names on the list.  This is a standard request because we all make mistakes now and again, there can be changes to addresses or extra guests invited at the last minute.
Our next installment of this series will be on invitation styles and special touches to make your invitations stand out!
 El's tip-stumped for an invitation idea?  What about using seasonal flowers (lilacs or cherry blossoms for the spring), foliage (maple or oak leaves, or even autumn trees) or even your wedding flowers (maybe the pretty peony!!) as the basis of your invitation suite?  That is one way to carry through the theme in a unique way!