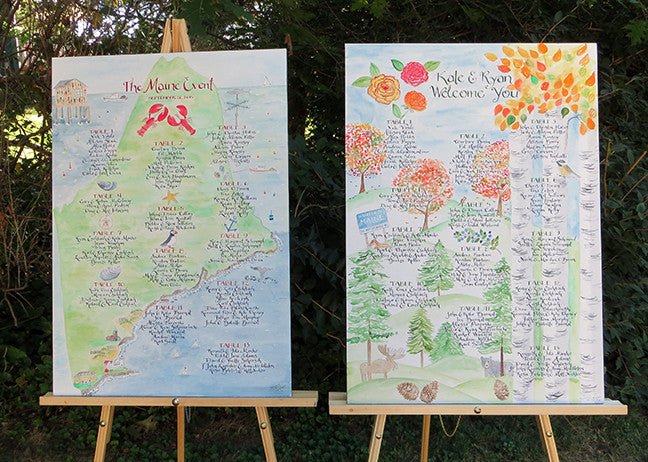 It was my pleasure to create Kate and Ryan's wedding stationery for their September 2015 wedding!  Anyone who knows me, knows my favorite element of the wedding to create is the hand painted seating chart with calligraphy.  This is one of our signature items!  Imagine my excitement when asked to create not one but two seating charts for this York, Maine wedding reception!  One was to be for the cocktail hour, and the other was for the entrance to the dinner reception overlooking the water.
As you can see in the gallery, one of the charts focused more on the sea, with meaningful Maine shells, animals, birds as table header icons. The heading "The Maine Event" was a great introduction to the reception. The other  chart was more focused on the land...with birches, a bear, moose, and other Maine wildlife. Since the wedding was in autumn, the bride requested autumn trees and pines painted on this chart.  Not to mention the couple's sweet dog, Rugby, a sweet Cavalier King Charles spaniel.
We started with the custom invitation. Kate wanted to represent Land and Sea throughout the whole stationery process...so I created a painting with a lobster trap in the foreground and a shack with buoys near autumn birches in the background. The invitation envelope had red and blue buoys as artwork. The wedding ceremony was in Kennebunkport at St. Ann's Church.  There were events in Ogunquit and also York, so all of those towns were included in Kate and Ryan's custom map.  We printed the schedule of events on the back of the map too, so the guests would have all the information in one place.
The table numbers had different Maine items on them including blueberries, lobster buoys, pine boughs, and of course, a moose and a lobster!  We also did favor tags with buoys and pine boughs for the special gifts at each guest's place.
Thank you for allowing us to be a part of your special day, Kate and Ryan!  And here's some news....the couple just had a sweet baby boy!  Congratulations to you both!  I love keeping up with our couples after the wedding!!
Wedding Day photos by Chris Smith
Florals, Planning and Decor by Beautiful Days
Reception venue: The York Harbor Reading Room
Save
Save
Save
Save