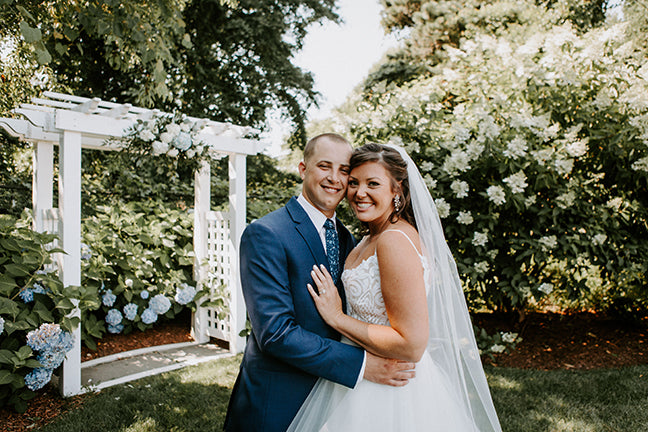 When I got an email from a long time friend, Cindy, telling me that her daughter was getting married, I was thrilled!  Cindy and I knew each other when I lived in Milton, MA in the "pre-Bob years".  I had just started El's Cards when we first met, and Tori was but a girl!  Fast forward 17+ years later, and I was so happy to be invited to be a part of Tori's gorgeous Cape Cod wedding.  Tori and I had been somewhat in touch over the years, since she orders a calendar from us for her mom every year for Christmas!
We first had a phone call to get some general ideas going, then scheduled some time to sit down and meet to go over the wedding invitations and wedding day stationery. Tori told me that she had been excited to work together as soon as she found out we did wedding invitations!  I love it when a bride knows what she wants, and Tori absolutely did!  She was so excited and enthusiastic about all the stages of wedding stationery-starting with the Classic Hydrangea Invitation. 
Tori opted for hand calligraphy for her guest envelope addressing, and custom postage on both the guest envelope and the reply envelope.  We used the adirondack chairs design on the outer envelope. This design was one that Tori had wanted to somehow incorporate, and this was just the place to do so.  The hydrangea design was perfect to give Tori and Greg's guests a little preview of the beauty of the property where the wedding was held on Cape Cod.
The envelope liner used was our Cape Cod map!  The wedding festivities were at the Dennis Inn, and that location was added so it was visible on the part of the map that stuck out of the envelope.  
For the wedding day, Tori had so many great ideas to tie in the hydrangea theme through the wedding. We put the same classic blue hydrangea on the ceremony programs and the favor tags.  The table numbers were a simple watercolor painted numeral, in the classic hydrangea blue.  
The menus were still in the hydrangea theme, but had a slightly different look...larger and spread across the top with a little greenery. One of the fun parts of my job is to see how we can tie different pieces of artwork in for different stages of the wedding. Because it's all watercolor created by the same artist--moi :), all the designs were harmonious, even though a little different!  Tori had so many great ideas and a true vision for the wedding day!
The final things we designed together were the different signs to be used!  Of course, the seating chart is always my favorite part of the wedding day decor. Tori selected the Carie style calligraphy for the guest names- and the header was a clear invitation to get the reception started...Let's Party-flanked by hand painted blue hydrangeas on the top.  
The welcome sign was framed in barn wood and Tori's florist accented the sign with some beautiful greenery.  The other signs prepared were the signature drink (G & T for Greg & Tori), guest book, cards, and of course, desserts!  The dessert sign and the signature drink sign had ingredients illustrations which is one of my favorite types of details to add!  Even though Tori had a clear vision, this lovely bride was very open to my ideas too!
Seeing the photos from this day was a real treat!  It is so rewarding when a bride comes to me with her vision for the day, and I can make it happen through my artwork!  Working with Tori was a pleasure from start to finish! And this couple's beautiful wedding day was truly picture perfect!  I love the trellis with the hydrangeas....so perfectly Cape Cod.
Thank you, Tori and Greg for inviting me in to be part of your wedding invitations and wedding day!  What a gorgeous day it was.  I wish you all the happiness and love possible in your marriage together (and in your new location)!!  And I had to include a photo at the end of the gallery of the lovely M-O-B...my friend, Cindy with her sweet daughter, the bride!  Wishing you all the best for a lifetime of happiness.  
And thank you so much, Tori, for your kind words!
"I cannot say enough about collaborating with Els Cards for my wedding this past July. Not only are her designs and free hand work stunning, she is such a pleasure to work with. El made what can be a stressful and overwhelming process a breeze due to her knowledge, organization, experience, and awesome personality. Before even getting engaged I knew I wanted to work with El on my invitation designs having ordered her sea calendar every year for my mom. Not only did El end up doing our invitations but all signage for our entire wedding day, this was the best decision we made! Her work, not only stunning, pulled our entire theme and wedding weekend together. All guests were in awe, as were we! I would highly recommend El for any wedding needs, she is truly the best!"
Thank you Scarlet Roots for the beautiful photos!
Venue: The Dennis Inn
Flowers: K.J. Florals