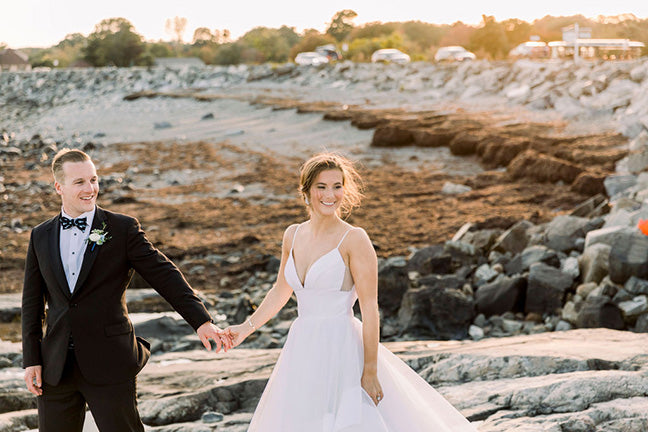 Thank you so much, Carter, for this thoughtful and kind review!  I look forward to staying in touch...especially since now we are practically neighbors :)
A friend of mine had used El's Cards for her wedding and when I described to her what my wedding vision was she pointed me immediately in the direction of El's Cards. I could not have been happier with my choice and would choose El and Bob a thousand times over. They were there for me (and my husband) every step of the way. She was always so prompt, organized and timely and I could not have appreciated her support more throughout the wedding prep, the day of and even afterwards. She always went above and beyond and made sure that we were doing okay with the stress of wedding planning! She formulated a realistic timeline for me to get everything to her which was incredibly helpful during such a busy time.
El is so talented and her work is simply incredible. Each piece that she designs is so beautiful, creative and unique. People from our wedding are STILL talking about our invitations almost a year later! We had a map and a seating chart done which are just a few of the things we are going to hang up and cherish in our new home forever. She tied together the entire wedding day perfectly. From the signs and programs at the chapel to the menus, table numbers, hand painted rocks with table seating assignments, dessert labels and more everything was just as I had dreamed of having. She also accommodated all of my last minute requests! I could go on and on about how much I loved working with El and Bob. I wish there were more words to describe how much I cherish everything they did for our wedding. They have become more than vendors but friends. I look forward to working with them again for future projects :)
Carter reached out to me after receiving a kind referral from one of our former brides.  That is such a wonderful compliment.  We met to talk about invitations and other wedding day paper goods, and Carter already had her eye on the
Martha's Vineyard Hydrangea
invitation.  This was a new invitation to our collection of suites...and I love that Carter made this selection!  Hydrangeas and blueberries are such a complimentary combination.
Carter had seen our maps and was very interested in having that special item being a part of the wedding suite, so we put that on the list of items to create together.  The map I did for Carter and Trevor reflected so many fun details of their life with each other. Besides highlighting all the locations for the wedding festivities, it also had the couple's home, their beloved dog, their favorite ice cream shop, and so many more personal touches.  The couple put so much thought into the details for this colorful artwork!
The guest envelope addressing was done in our Carie font, and the artwork on the envelope was a blueberry wreath-one of my faves!  The couple had a reply card with food icons vs. text for the guest dinner selection. The outer envelope had one of our custom stamps-Salty Air.  Worth mentioning about the custom stamp-these are no longer available. Sadly, the USPS removed this offering just this month.
The rehearsal dinner was in Portsmouth, so what could be better for the artwork on that invitation but our Portsmouth bridge skyline scene?  We created this invitation for a limited number of guests, with an accompanying card about dinner selection and digital addressing on the guest envelopes in Julie font.  The envelope and the dinner card both had a tugboat as additional artwork.
For the wedding day, there were so many special elements!  Carter loved the idea of all of the "day of" stationery being harmonious with the invitation, so we stayed with the Martha's Vineyard Hydrangea design on the ceremony programs, menus, and all the signage too....including the special seating chart!
One extra special detail was the beach rocks that Carter collected with her mom.  Each rock had a guest name in calligraphy (we used all different font styles for added interest) and was placed at their seat in the reception hall. This was a FUN project!  Every single rock was different.  Carter's mom asked me to create a surprise rock for the couple to put that their place at the head table.
I thoroughly enjoyed working with Carter last year!  We never got to meet Trevor, the groom, but as I mentioned...we are neighbors now, so I hope to meet him someday! Carter, I miss our daily emails!! Wishing you both a lifetime of happiness together! xoxo
Wedding day photos by Carly Michelle Photography