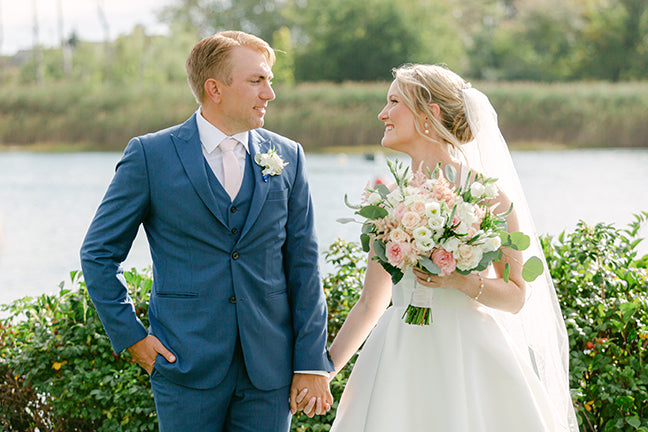 Thank you to the bride, Emily, for this wonderful and thoughtful review! Emily and Evan were referred to us by a wonderful wedding couple from 2019. The peony and blueberry design has become one of my favorites, and I love how this creative couple mixed and matched other watercolor elements for the wedding day.
"Working with El was one of the best decisions we made during our wedding planning process. El was such a joy to work with! She has such a sweet and genuine personality that helped to take the stress out of the wedding planning process. I never knew or imagined how fun it would be to plan our wedding stationery!
El was on top of things and organized from the beginning as she helped to create a timeline with key dates. At the time, I was studying for a very intensive finance exam and working full time but El took all of this into account and maneuvered our deadlines around my busy schedule.
We created a number of stationery and day of items with El and we so loved that we could mix and match our designs so they looked truly personalized for us. El created our invitations using the Peony and Blueberry Suite (perfect for our wedding in Maine!). El's husband Bob also helped to address and mail our invitations which took so much stress off of our plates. El was able make last minute guest list changes and provided so much insight into proper wedding etiquette and general wedding tips.
For the day of items, we got creative and mixed and matched El's beautiful designs. Our main designs were the Peony and Blueberry design where we created menus, a seating chart, ceremony program, welcome sign, and thank you notes. El went above and beyond at the last minute too to create a digital print that our DJ was able to use on our photobooth images to keep the peony and blueberry theme in tact throughout our wedding! For our drink of choice sign, El even recreated the Nonantum's lighthouse rather than her typical light house image. We also incorporated her buoy design into our schedule of events and her anchor designs were incorporated on our place cards and table numbers.
We received so many compliments from guests on our wedding signage and are thankful we could work with El. We look forward to enjoying El's creations in the future during the holidays etc."
Emily did a great job highlighting all of the details that I like to mention on the gallery pages.  I was so happy to receive these beautiful photos of the wedding day.  Because we met over Zoom in the winter when we were all homeward bound due to the pandemic, I never got to meet with Emily and Evan in person until they came to pick up their wedding day items-just a couple of days before the wedding.  It was so great to finally be able to meet in person. The last couple of years have been many Zoom meetings and phone calls, and that works out fine.  With many of our far away clients, we often do the entire process over email.  It's just nice to be able to wish our couples well in person as we were able to do with Emily and Evan :) That's one of the things about being a stationer, we don't get to see the couple on the big day, so it's wonderful when a kind photographer provides photos.
Designing the photobooth frames was cool! This was something fun and different that I hadn't done for awhile.  And whenever I can personalize an image, as we did with the lighthouse, I am always happy to accommodate!  This wedding is a perfect example of how you can truly take our existing designs, and customize it to what you would like.  Adding the nautical details for the wedding day items really speaks to the beautiful location of the Nonantum-right on the river in Kennebunkport.  The blue and pink buoys on the schedule of events for the welcome bag was a fun way to bring in the colors of the floral invitation and make the schedule even more personal.
Thank you so much Emily-you were super organized and working with you was a pleasure!  I love your bright spirit and enthusiasm for everything we did together!  I look forward to staying in touch and doing some special projects in the future. Seeing the wedding day photos is a treat! You both look so happy with each other.  Wishing you both so much love and happiness in your married life.  
Wedding photos-Rachel Buckley Photography Associates
Flowers-Calluna Fine Flowers
Venue-The Nonantum-Kennebunkport