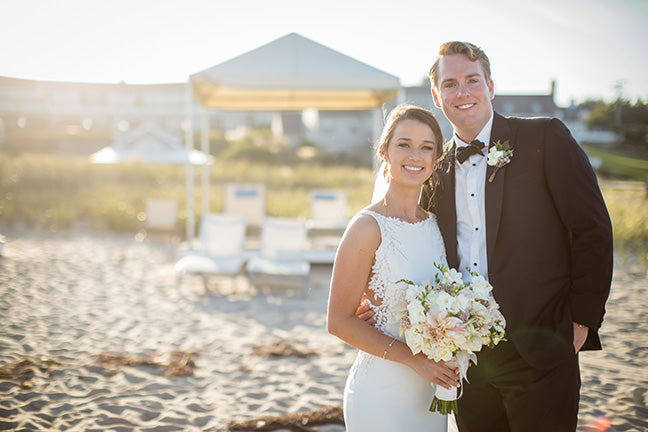 I sincerely thank you for this lovely testimonial about El's Cards. Working with you was a true pleasure!
I met El several years ago while she was exhibiting at a festival near my home. I loved El's watercolor designs and the top-rate paper product quality that she used in both cards and gift tags. After my daughter's engagement, she was looking for Save-The Date cards that were special and unique, so I suggested she peruse El's Cards website.  I was sure she would love her wedding designs too! Since she was being married on Cape Cod, she wanted an invitation suite that offered an elegant and timeless design, while still keeping with the beach theme. El created a new design just for her! El was wonderful to work with; creative, flexible, attentive and detail oriented! Each wedding's final selections are custom to the individual bride and groom and their wedding theme and venue. El was by far one of our favorite vendors to work with and I recommend El's Cards with pleasure to any engaged couple! -Corinne Doherty and Samantha O'Rourke
We love doing craft shows! Bob and I often meet new wedding clients at the craft shows. It's great to get out and about and sell our cards and maps in person to our customers. We always bring "the wedding book" which has samples of many different invitation design styles.  We met Corinne in just such a circumstance.  It was the first year we had done the Boxford Apple Festival and Corinne and her sister came into the booth to take a look at our cards and gift tags.
Fast forward to 2018, a couple of years later, and Corinne told me when we saw her at the Boxford show that her daughter was getting married in 2019 and we would be hearing from her again.  The rest is history! Corinne reached out to me in the winter and we set up a date to sit down together with Sam and talk about wedding invitations and paper goods, starting with the Blueberry Save the Date.
Corinne asked me to do the shower invitation that day as well, as a surprise for Sam!  She selected the Wedding Dress design and we added a couple of little personalized modifications to make it more custom.  
When we met, Sam had a few invitations that she liked from our collections, but her final decision was on the Peony and Blueberries suite.  The bride was hoping for a lighter pink peony than the vivid pink that was on the existing design.  I created a softer pink version that we ended up using on many of the wedding day items as well!  The wedding invitation had a double envelope with hand calligraphy on the inner and outer envelopes, a custom stamp featuring the softer pink peonies, a blueberry cluster envelope liner, and blueberry artwork on the envelope to name a few special details.
The wedding day paper goods carried through our blueberry and peony theme. From the folded, booklet style ceremony program, to the menus placed at each guest's seat, this special design tied these pieces together.  The escort cards were hand lettered in calligraphy and there was a food illustration on the back indicating the meal selection-beef or fish.  Another fun details...cocktail napkins with the peony blueberry design and the couple's initials.
In lieu of a guest book, there was a sign in board with our Cape Cod map in the center, surrounded by an archival mat where the guests wrote a little note and their names.  We did some other calligraphy signage for signature drinks, sign in board, and the welcome bag table.  On the welcome bag was a card with an illustrated schedule of events on one side, and a note from the bride and groom with small Cape Cod map on the other side.  Sam and Corinne didn't miss a thoughtful detail!  
The mother of the groom, Stacey, reached out to me to create a rehearsal dinner invitation and some signage for the rehearsal dinner as well.  Stacey went with the Classic Hydrangea design, and we carried that through all of those pieces.  The invitation had a hydrangea envelope liner, digital guest addressing, and a custom hydrangea stamp.  The Hydrangea seating chart directed the guests to their seats, and the tables were all named after favorite Cape Cod towns.
What a picture perfect day for Samantha and Devin!  Seeing it all come to life is such a wonderful feeling.  I loved communicating with this lovely family for all of the months preceding the wedding day.  Then enjoying how it all came together beautifully is so rewarding.  I wanted to include a photo of Sam with Corinne in the gallery, and found a great one in the lovely selection of photos.
Thank you so much for letting me be a part of your stunning wedding day!  Bob and I wish you both a lifetime of happiness together, Sam and Devin.  And Corinne, I hope to cross paths with you again when the craft shows are happening. :)
Photos by Kelly Cronin
Venue-Chatham Bars Inn
Flowers-Fancy Flowers by Meredith