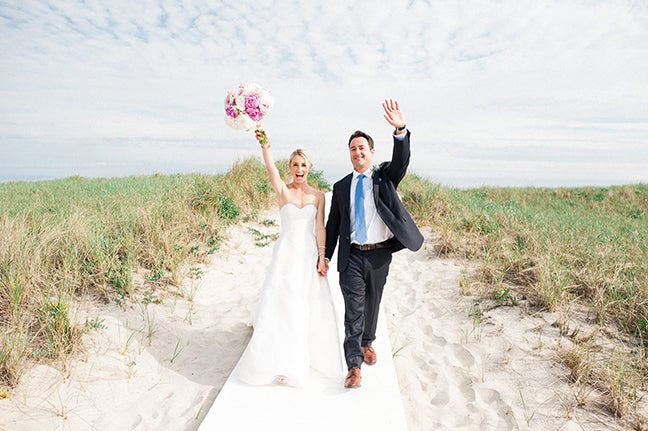 We love working with our couples from start to finish on their wedding stationery. Sometimes though, the bride might find us after the invitations are long ago sent to the guests.  That was the case with the beautiful bride Michaela and the handsome groom Dimitri!
Michaela reached out to me last year in April about doing some special wedding day items for her June wedding.  She loved peonies and so do I, so it was a match made in heaven!  Michaela was hoping for some greenery to be added into the layout.  It was a perfect addition for the wedding table decor.
The escort cards, menus, and table numbers all were harmonious with the peony and greenery design. We also created custom signage, including a signature drink sign, and a fun sign for the bacon, egg, and cheese sandwiches for the late night treat among others!  I love when a couple lets me get a little creative with these extra pieces like Michaela and Dimitri did!
Thank you so much for finding us and reaching out to me last spring! I am so happy we were able to bring some watercolor beauty to your wedding day.  I am touched by your kind words and seeing your day brought to life, Michaela! Working with you was a pleasure! :)
There are not enough praises and positive words I can say about Ellen and her team at El's Cards. Working with her was one of the best decisions we made for our wedding day. Menus, place cards, table cards, signature drink cards, and paper items in general may seem like smaller details, but they are very important elements of the wedding day that truly make your wedding unique, personal and cohesive.
From my first call with Ellen, I knew I had to work with her. I had fallen in love with every design on her website, but we ended up discussing a custom painted Peony and Vine design for our menus. Pink peonies are my favorite flower, and I knew I wanted a pop of bright green to add more color to our tables and to complement the arrangements of peonies, roses, and hydrangeas. Ellen perfectly captured the bright pink peonies that were in my bouquet and we decided to do more than just menus; she brought the peonies to life on the custom menus, table cards, and place cards for guests. The blue calligraphy Ellen used gorgeously and seamlessly accented the blue colors we weaved throughout our wedding decor, in the bridesmaids dresses, groomsmen outfits and blue hydrangeas.
In addition to custom menus, place cards and table cards, Ellen also used the Peony & Vine design on our signature drink card which added color to the bars where guests were served. And last but not least, Ellen created a "Late Night Meal" sign for our Bacon, Egg and Cheese sandwich bar which we had at our after party. The signs were both practical and fun, and added personal touches to every aspect of the wedding reception that felt "so us".
Ellen was an absolute pleasure to work with. She delivered items early and with care. I loved her personality, professionalism, accountability and compassion for what she does. She brought innovative ideas, like the Bacon, Egg and Cheese sandwich sign, to our wedding and made our reception feel personal and unique. Ellen truly was an integral part of our wedding and I cannot thank her enough! Thank you Ellen!
Sincerely, Michaela & Dimitri
Wedding day photos: Twah Doherty