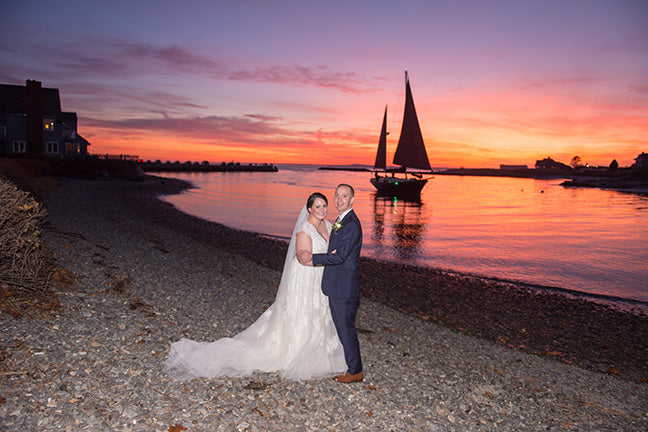 What a year it was in 2020! Kellie had reached out to me in 2019 and we saw each other in person for the first time at a craft show in Freeport, Maine.  When meeting in person in the winter of 2020, little did we know the changes that were soon to come for that year. Working with this flexible and resilient couple was a delight.  I love seeing their happy, smiling faces on the wedding day.  Kellie looks so beautiful and Lucas is handsome...both so joyful. The sunset photo is one of my very favorites!
Here are some kind words from Kellie, the bride. "I can't say enough good things about working with El for our wedding invitations and wedding paper goods! El's wedding invitations are so creative and beautiful. I initially met El at a craft fair, and I knew almost immediately that I wanted to use her peony and blueberry design for our wedding. During our planning process, El provided so many great ideas about personalizing various pieces of our stationery and paper goods. Working with El was incredibly easy and her timeline kept us on track.
We had a 2020 wedding, and the pandemic hit right after we sent out our invitations. We had to postpone and substantially downsize our wedding. El was amazing about providing ideas for "change the date" cards and tweaks for our other paper goods. She was extraordinarily flexible, supportive, and kind during a really challenging and unpredictable time. Our invitations, change the date cards, programs, napkins, signage, and map for guests to sign were so beautiful and exactly what we had envisioned, and we were thrilled with how everything turned out! Working with El and Bob was a wonderful and easy experience, and we are so grateful for everything they did.
Since our wedding, we've purchased numerous prints, maps, and cards from El. Everything is beautiful! We will be lifelong customers!"
Kellie and Lucas selected our Peonies and Blueberries suite. This is one of my favorites...I'm all about the pink and the berries are so summery! Kellie and Lucas made this suite their very own by selecting their own special details to include in the invitation suite and on their wedding day.  
I had a couple of favorite features for the couple's wedding day.  I added a little painting of their wedding venue to our Kennebunkport map, along with their names and the wedding date.  The map was used as a sign in board in lieu of a guest book.
Another fun feature for the wedding day, was the small food illustrations on the back of the escort cards-indicating what the guests would be having for dinner.  Many venues are asking for this detail lately and it's a subtle and sweet way to accomplish this.  Bob prints the food choice right on the card.
As you can see...this lovely bride loves flowers as much as I do!  All the wedding flowers were stunning and carried the invitation theme right on through.  
It was such a pleasure working together in 2020 with Kellie and Lucas.  Kellie had a wonderful outlook as she had to make some serious changes to how the wedding would look-but as you can see, it all came together beautifully.  I'm happy that we are still in touch and love seeing this couple and their adventures with their spirited and adorable pup on Instagram!  Thank you for allowing us to be part of your wedding, Kellie and Lucas! xoxox -El
Wedding photographer-Brea McDonald
Wedding flowers-Coco Design Company
Venue-Breakwater Inn