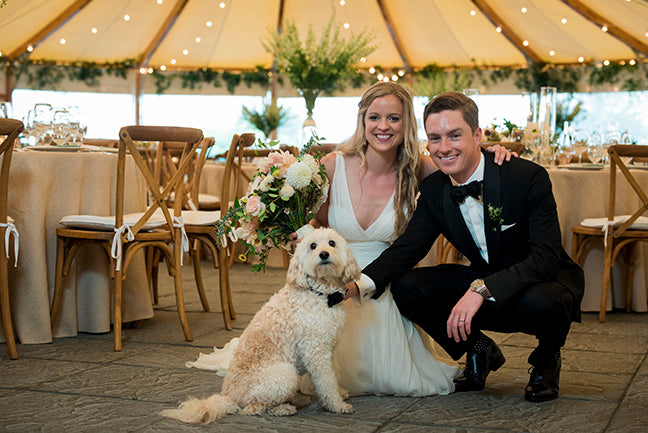 This wedding was by far one of my favorites from the past year! Working with the mother of the bride, Linda, was a pure delight. Linda called me a year or so before the wedding after being referred by her wedding planner, Erica Trombetti, from Infinite Events. Erica and I had worked together on another Newport, RI stunner in the summer of 2017, and she thought El's Cards would be a good fit for the Matthews/Dittrich wedding too.
This special wedding weekend would take place over the course of several days and there were several events involved. I was also contacted by Amy, the mother of the groom, and we worked together on creating a rehearsal dinner invitation using a pair of lobsters and everyone's favorite lobster buoys design on the envelope.
The invitation was a fun mix of a few different suites.  The invitation was Summer Sailboat and was backed with a navy card stock to add more depth.  We used a double envelope and the outer envelope had a blue watercolor wash liner. The hand calligraphy style on both envelopes was Jane style.  There was a lot of information that needed to fit on the reply card, so we did illustrations that coordinated with the paintings on the schedule of events card.  The reception card was adapted from our Lighthouse Wedding Invitation suite. Custom stamps!!  These featured sweet Winston-the couple's pup...floating off in a sailboat!
Then of course, there was the custom map featuring all the special wedding locations, Winston, and the Newport Bridge (just to name a few of the details).  This map also had a sunset sky wash behind the bridge, and a detailed painting of the church which we carried over to the cover of the ceremony program. 
When the guests arrived at their hotels, they received a gift bag with a sticker featuring handsome Winston, and a favor tag with pink ribbon...filled with treats, water, and of course a map and schedule of events.  We printed a large schedule of events to be posted at the Rehearsal Dinner and Welcome Party.
For wedding day details, we tied in many of our invitation themes, yet drew in some other styles of artwork as well.  The programs had the church painting and had a strand of blue ribbon to pull in some navy blue.  
Guests were welcomed to the Reception by a large sunset sky welcome sign in a barn wood frame.  There were menus with custom dahlia and greenery artwork printed at the top, escort cards with Adirondack chairs on strands of greenery, and many assorted wedding signs...including signature drinks, "Dance" for the flip flops, Guest book wish sign, and a sign for the cookie favors for people to take with them.  For dessert, there was a chocolate table and we used the dahlia design for those signs.  All of the wedding day signage and cards were done with hand calligraphy...such a special touch.  Of course, Winston was once again featured on cocktail napkins!  And on the sunset sky welcome sign...hiding in the window of the lighthouse.
Being a part of this wedding was by far a major highlight of my 2018. It is so exciting when we can carry the watercolor all the way through the invitation to the wedding day!  So many fun details and such a wonderful family.  Linda had so many great ideas of how to incorporate different elements, yet keep the details harmonious yet unique.  It was so lovely being a part of this wedding.  Bob and I both wish Katie and Tyler a wonderful life together--full of love and fun!!  
**Thank you so much, Linda for this beautiful note! Working with kind and thoughtful women like you is the BEST part of what I do!
Dear Ellen,
I truly have to say that you were the greatest joy to work with. Putting together a destination wedding was no easy task and I don't know what I would have done without you. You understood every detail of wedding planning and were able to add your artistic gifts to create the perfect invitation and day of suite for Katie and Tyler's wedding in Newport. I felt like we just had fun doing it! Katie and I were truly thrilled with the outcome. We wanted it to feel like we were bringing the beautiful scenery inside and that's exactly what we got. Most importantly, we became friends. Even though we've never met, I know we are kindred spirits. I wish I had another daughter getting married so that we could do it all over again!!!
Fondly, Linda Matthews
Reception Venue: Castle Hill Inn
Wedding Day Photos: Snap! Photography
Planning: Infinite Events
Flowers: Green Lion Design
Rehearsal Dinner invitation photo: Rachel Halsey