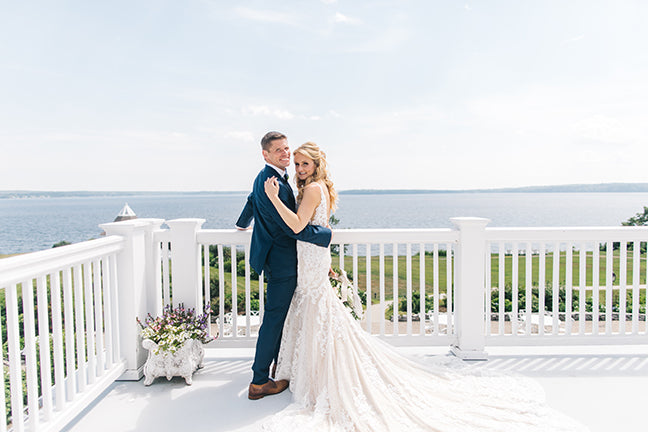 Last spring, I was approached by a wedding invitation designer out west to have our Mid-coast Maine map envelope liner included in one of her client's invitation suites.  Map liners are such a great touch, so I agreed!  A few months later, the bride, Kristine reached out to me about creating some wedding day paper goods sticking in that map theme!
Before I tell you about this lovely couple, let me say a few things about maps! They are such a fun and colorful element to add something special to a wedding suite.  The custom map is always nice, but I love it when a couple can find a map we have in our extensive collection, and work it into their wedding day.
Kristine was just such a person!  The sweet bride had loved how the envelope liners came out,so she reached out to me about pulling together some other aspects of the wedding day.  We spoke on the phone and talked about her vision for using the Mid-Coast Maine map as part of the wedding decor.  I loved her ideas.  She suggested we take the map and blur the middle part so it was like a border around the edge of the ceremony program.  We added a heart over Stockton Springs where French's Point is located, and personalized the sign in board and thank you notes with their names and the date also.
We also did table numbers with the map on one side and the dinner menu on the other side. They were free standing for the table tops. We used the map with heart as a special sign in board in one of our signature barn wood frames.
Kristine requested a large welcome sign using the hydrangea artwork that we had used on the menus.  There was also a watercolor image of the gazebo at French's Point on the welcome sign.  Kristine and Andy had special signature drinks and I created a custom drink sign featuring illustrations of the drink ingredients....and Dark and Stormy had some storm clouds.
Kristine was a delight from the very start.  It was fun putting her ideas on paper and bringing them to life-using one of my favorite map designs!  When it came time for the wedding day items pick up, I was hoping to meet her.  We work with many people from all over the country as was the case with Kristine and Andy.  We were at a show in Camden, Maine, just a week before the wedding, and Andy picked up all the wedding items.  It was great to meet Andy and his artistic daughter, Natalie at the craft show.  I wish I had been able to meet Kristine!   But maybe this summer at the Camden show, our paths will cross!
Wishing you both a lifetime of love and happiness, Kristine and Andy!  It was wonderful working together on your wedding day details.
Thank you, Kristine, for sending me this lovely and kind note. I am so glad you enjoyed working together as much as I did!!:
Working with El was one of the highlights from our wedding planning experience. She was incredibly supportive, creative, and so very responsive - she felt more like an extension of my bridal party rather than a vendor! If not for El, we would not have had our wedding theme and we would have missed out on collaborating with such a thoughtful and fun artist! We had the fortune of finding El through another vendor who spotted El's whimsical maps of various areas in New England. Little did we know that the map would become the central theme for our wedding day ("and so the journey begins"). After seeing the unique map of the midcoast Maine coast which included not only the town where we got married, but the town where my husband and I fell in love, we reached out to ask El to create a map to use a guest book. From there, El suggested other options for our consideration - including programs and menus to help us tie our theme together. El was part of the collaborative process - never pressuring us or upselling us - but rather a trusted friend who had experience with other weddings and could help guide us. We could not have been happier with our working relationship and the finished products especially. El was a true professional, and her husband Bob was key in ensuring that all the artwork was produced beautifully and wrapped securely. We now have the pleasure of enjoying El's beautiful artwork everyday in our make-shift "wedding shrine" in our home in Washington, DC, featuring our welcome sign and "guestbook" map. My only regret from the entire process is that I did not have the pleasure of meeting El in person... yet! I hope to find another opportunity to work with El, and for anyone considering hiring her, stop reading my words and book her now! 
Wedding photos-Greta Tucker
Wedding venue-French's Point