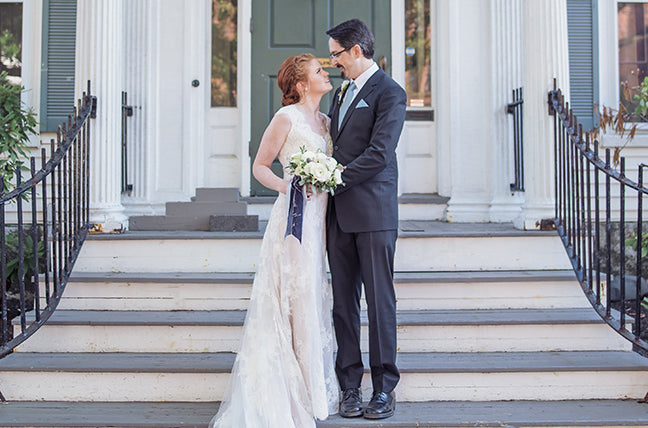 A large part of El's Cards business is our craft show season. We love doing these shows because it gets us out in public (yes...wearing comfy clothes to work at home every day is great...but we do enjoy getting out of the house too!). One of the most fun benefits to doing these shows is that we often meet our future couples there! The Freeport Fall Festival in 2017 was one of those times.
Michelle and Andrew came into our tent and immediately saw our wedding book. We started chatting and they reached out to me not long after that show. This great Maine couple came to meet with me in the winter.  We planned their Save the Date cards. They loved the Casco Bay map, so that was the chosen artwork for the calendar Save the Date.  We denoted the town where the wedding would be with a pink heart over the location.
As a surprise for the sweet bride, her mother in law ordered shower invitations from us in the Jar of Blossoms style! The shower had a flower themed activity planned, so this was a perfect choice.
 The wedding invitation was our Pine Bough style. The couple selected a kraft style envelope with white calligraphy and an Andrew Wyeth stamp on the inner and outer envelope. Perfect choice for a Maine wedding.  What could be prettier than hand done white calligraphy on a colored envelope?!
For the wedding day, we created several special Pine Boughs items to coordinate with the invitations!  The guests were greeted by a welcome bag with a pine bough favor tag.  When they arrived at the reception, they were guided to their tables by the Pine Bough seating chart.  For a Maine wedding, this detail was a perfect fit. And it's artwork that Andrew and Michelle will enjoy for many years to come in their home. The table numbers were also adorned with pine boughs.
Michelle and Andrew also ordered Pine Bough thank you notes, and Jar of Blossoms thank you notes as the final pieces of their wedding stationery details.  The couple also had us do the digital addressing on the guest envelopes as a beautiful extra detail.
It is so much fun to work with a couple from Save the Date all the way through the thank you notes!  Remember how I mentioned meeting Michelle and Andrew at the Freeport Fall Festival?  Well, this year we were at that show again, and we were able to see them again! They stopped by to say "Hi" and have a little visit!  The connections we make with our clients are so special.  Thank you so much, Michelle and Andrew, for letting us be part of your wedding from start to finish!   We look forward to working together on future projects.
Wedding Day photos by: Elusive Photography