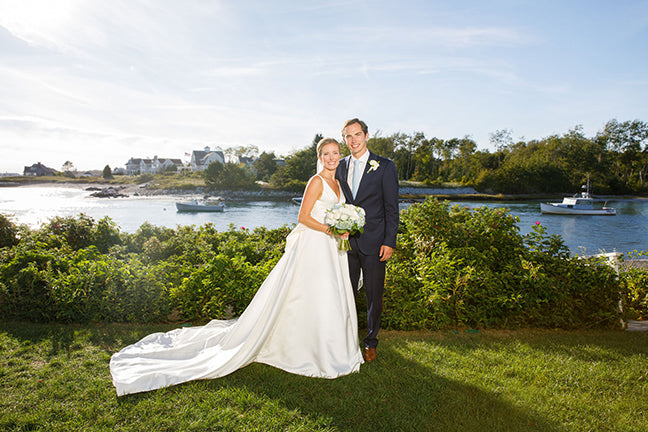 A great big thank you to the bride, Sarah, for such a heartfelt and thoughtful review.  One of the upsides of Covid (yes...contradiction in terms, I know!) was bonding with the couples through a challenging time! This is a perfect example of such a wedding.  
The minute we got engaged I quickly knew El's Cards was a top priority. My now husband's cousin used El for his wedding and I remember making a mental note of her contact information, and boy am I glad that I did!
El worked with us through all of our wedding planning, which due to Covid was no easy task. Originally El was going to provide us with wedding day items and save the dates, but she ended up doing so much more! We fell in love with her simple, elegant, and classic approach, and let's be honest who doesn't love watercolors! We selected a variety of her artwork...lobsters because well, it's Maine! and my favorite flowers, hydrangeas, along with some nautical flair. We added little tweaks here and there to personalize it for our wedding. El was incredibly flexible through this process and somehow took all of my talking and turned it into exactly the image I had in my mind. Everything was perfect!
Then Covid became tighter with its restrictions and that's when El truly went over the top to work on the fly and make our special day one to remember. On relatively short notice, we had to recreate an entire second round of invitations for our much smaller more intimate wedding, make additional items to share more wedding information as things changed, and get them out in a timely manner. With zero hesitation and only immense calmness, El supported us and created beautiful items for us to send and share with our guests on one of the most important days of our lives. They literally had us jumping with joy :)  My biggest takeaway after working with El is that she always looked at things glass half-full, which for a bride planning during Covid was an absolute necessity. She was fantastic when it came to communicating and was up for any ideas we had!
We are grateful she was a part of our special day and would not have it any other way! HIGHLY RECOMMEND!
Warmly, Sarah and Coleman Lapointe
Ahhh 2020...the year of the micro wedding! It was truly my pleasure to work with Sarah and Coleman! Initially when Sarah and I spoke, we were going to be doing save the dates and wedding day items.  The couple had been generously gifted invitations so they were planning on getting their invitations elsewhere. But later, because they needed to make adjustments to their wedding plans, we ended up also creating a second run invitation for their smaller guest list.  
The save the date featured our traditional red lobster, with the couple's initials added on either side.  That same design was carried over to the micro-wedding invitation and then also used on the menus at each guest's seat at the wedding reception.  The invitation had several pieces and we stayed within the lobster theme for each of those.  The Welcome Party card had our signature buoys, and the envelope liner was our Kennebunkport map.  Both the guest envelopes and the reply envelope had the red and blue buoy design.  The reply card had a nautical rope border, and the Rehearsal card had a trolley explaining about the transportation from the rehearsal to the Welcome Dinner.
I love this photo of Sarah jumping for joy when she received all of the wedding day paper goods! This is absolutely the desired reaction!  And there were so many unique aspects for the wedding day. Many people like to have all designs the same for all parts of the invitation and wedding day items, but it brings such a personal touch when many different designs are used for the various wedding day details.  We have so many designs available, I was happy that Sarah took full advantage of mixing it up!
For the ceremony,  the programs and Reserved seating signs (laminated for the outdoor ceremony) had our hydrangea/blueberry design. We then carried the blueberries through to the escort/favor tags for the Blueberry Jams.  Guests were guided to their tables by the rope border table numbers (similar to the reply card design).  When seated, each guest had a menu on their plate with the snappy red lobster with the couple's initials at the top.
We feel honored to have been a part of a lovely intimate celebration. I always love working with Annie from Salty and Sweet Events! Sarah and Coleman were referred to us by a previous Kennebunkport couple (Jennifer and Tom).  This is such a nice compliment when a wedding couple tells their friends about us!    Bob and I wish you both all the very best! Thank you so much, Sarah and Coleman, for working together on your wedding stationery.
Photography-Enid Arvelo for Nadra Photography
Planning-Salty and Sweet Events
Flowers-Minka
Venue-Breakwater Inn