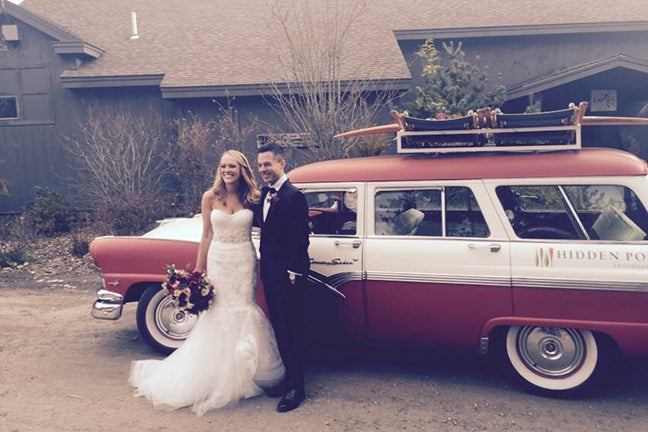 It was my pleasure to be a part of this beautiful October wedding last year. Happy One Year Anniversary, Kerry and Derek!  I first met with Kerry and her mom, Mary, in the spring. 
Shortly after that we sent out Kerry's calendar save the date. We gave the autumn trees a little extra character by adding the moose behind the tree.  Kerry had me address the save the dates in calligraphy, and we mailed them out for her too. Calligraphy style used was Christy in gold and navy blue.
When we first met, Kerry had already selected the Fancy Autumn Trees invitation as her favorite!  We customized the reply card and created a schedule of events to include for the guests.  Kerry and Derek loved our Kennebunkport map, so we added some personal touches especially for their envelope liner.  We added Hidden Pond to the map, and it was the first thing her guests saw when they opened their invitations.
Before we sent out the invitations though, Kerry's Mom had us create a super special shower invitation...using vintage teacups and a custom roses design.  You can see a glimpse of this on our blog post about unique uses for calligraphy!
When it came time for the wedding day items, we used all the different elements as artwork, along with navy calligraphy for the guest names to make things so very personal.  The programs had the tree and autumn leaf motif, with a navy ribbon. 
The menus we created were extra large and mounted on an easel for easy guest viewing.   Once again, the autumn trees motif were brought in to keep the decor harmonious.
I so enjoyed creating some special pieces for this gorgeous Kennebunkport wedding!! Best wishes for a lifetime of happiness, Kerry and Derek!   I so enjoyed working with you both...your day was absolutely beautiful and so are you!
We are honored that this wedding was featured on Style Me Pretty!
Beautiful wedding day photos by Emily Delamater.
Stunning florals, decor, and event planning by Kate Martin of Beautiful Days.
Wedding venue-Hidden Pond
Hair-Hair that Moves
Makeup-Joya Beauty
Rentals-Peterson Party
Save