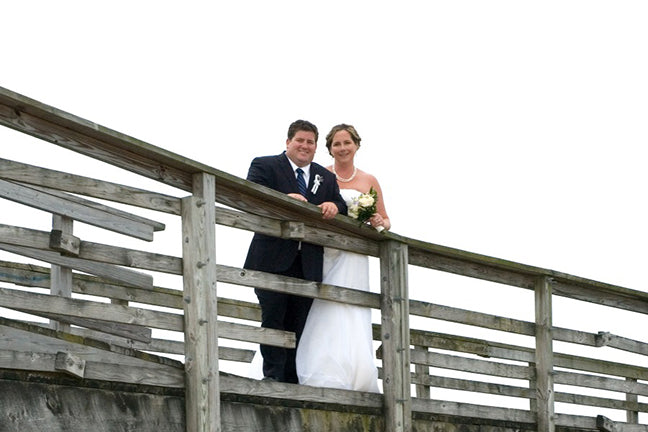 When Katie asked me to do the wedding save the dates and invitations for her Peaks Island Wedding, I was honored!  Katie was an art teacher at my alma mater, Kennebunk High, and I was thrilled to be asked by such a creative person to be a special part of their wedding day!
All of Katie's designs were totally custom. We started with a map save the date...my very first!  Then Katie came up with the idea for an invitation with a rope border nautical design and a compass rose on the  reply card.  There was a little painting of the Inn on Peaks Island on the enclosure card, and a schooner on the outer envelope.
We did a number of other pieces too! Her mother in law had me do a whimsical portrait of the couple that was later used as a groom's cake topper and a surprise for Brock!  There was a hand painted postcard for certain lucky guests for a sunset cruise the night before the wedding.
The couple had me create a watercolor painting of their church to be used on the front of a program.  The wedding reception pieces all stayed with the rugged Maine coastline theme....with a few hydrangeas thrown in to pull in Katie's wedding colors.  Of course I loved the seating chart the most!  All of the tables were named after the Casco Bay Islands.  Brock is a merchant marine, so the sea is important to them both.
I so enjoyed working with this lovely couple!  They now have 3 beautiful children and I hear from Katie from time to time for other projects!  All the best, Katie and Brock! Thank you for letting me be part of your wedding day (and life!).
Wedding Day Photos by Denise Dupuis Photography