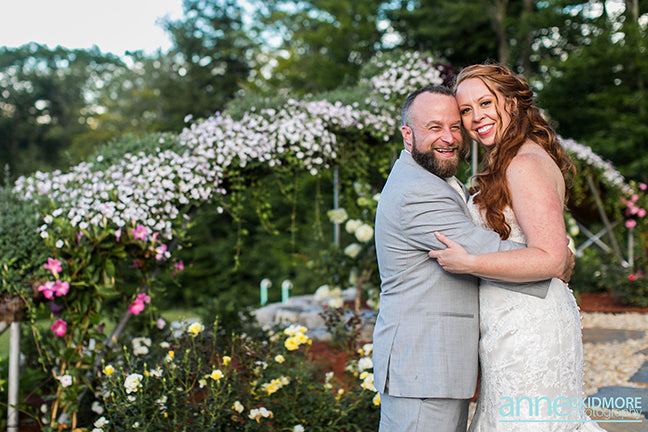 We met Heather at a wedding event in the summer of 2017. The bride had seen our custom maps and was interested in having us do the wedding invitations with a few custom elements and a totally custom wedding map! We set a date to meet that fall, and the invitation process was in motion.
Heather decided on our Garden Roses suite! I found out later that her dad had planted a rose garden especially for her where the wedding ceremony would be held.  The cornflower blue calligraphy and kraft envelope were some special touches that we added for this invitation suite.  LOVE the suite surrounded by the wedding flowers.
When it came to be time to think about the wedding day paper goods, the first item we worked on was the custom map! The couple was planning on using this on the back of the schedule for the day that was handed out to all the guests when they arrived at the reception.  The map featured special places to the couple, Cathedral Ledge, their sweet pups, and of course the property where they were holding the ceremony and reception.  The map was also matted, framed, and used as a sign in board for the guests to wish Heather and Bryon a lifetime of happiness together.
We also designed and printed menus for each guest to enjoy at their place setting.  The menu had the couple's invitation design of the garden roses, with headers in calligraphy and our signature Carie font. 
Of course, my favorite part of the wedding reception artwork was the seating chart that I designed using the garden roses from the invitation!  The seating chart is always my favorite choice because it is something that our couples can hang in their home and enjoy for their lifetime together. I liked this chart so much, we added it to the Seating Chart collection.
Thank you for letting us be part of your wedding celebration, Heather and Bryon!  
Photos: Anne Skidmore
Event Planning: Blissful Beginnings
Videography: Heirloom Pictures