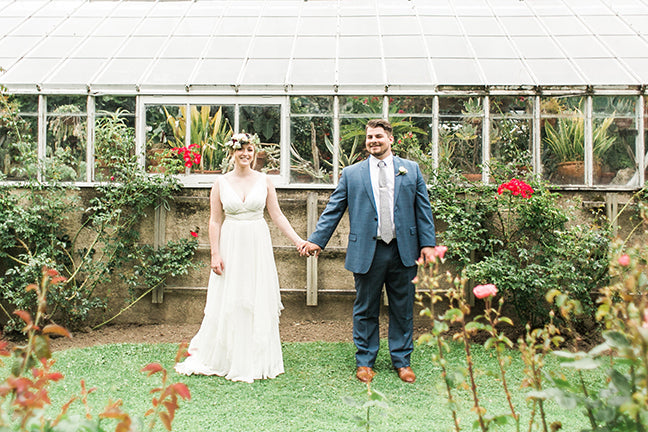 It was my pleasure to meet Lauren and her Mom in October of 2016 to plan Lauren and Mike's Save the Date cards and talk about the wedding invitations for their July 2017 wedding. Lauren was hoping for a design featuring greenery and planned to have me create a custom map too. I was so excited to hear that Rachel Halsey would be doing the photography for this wedding celebration! Rachel does a beautiful job with her couples.....not to mention that she is one of my favorite people!
Lauren liked our Rye map, so I used that design and created a map/calendar Save the Date to give their guests the first glimpse of the wedding day. There was a little bit of customization added to the map, and I hand wrote all guest addresses on the envelopes in calligraphy.
I created our Flourishing Greenery invitation specifically with Lauren in mind! This design has turned out to be one of our most popular. It has different assorted greenery in all four corners of the design. The custom map featured the Ceremony church in Rye, NH and the Reception venue, Wentworth by the Sea Country Club. There was a little downtown Portsmouth, NH area too...and for a personal touch, the couple's cat, Agatha Christie, was on the map grasping a flower in her mouth.
The calligraphy on the guest envelopes was in a bronze gold that coordinated with the envelope liner. And of course we had a stamp featuring the beloved, Agatha! The whole invitation package was tied with a slim white ribbon to hold everything together.
For the ceremony program, I took the detailed painting of St. Theresa's Church and made that the artwork on the cover. We had a lot of information to include, so we added an insert in the center of the program. As an extra special touch, We added a small envelope containing a tissue "for your tears of joy".
We created many details for the wedding day decor as well. Our favorite piece was the Flourishing Greenery Seating Chart that greeted the guests and told them where they would be seated for dinner. There were coordinating table numbers in gold hand calligraphy, and many unique signs telling the guests about signature drinks, the whoopie pie station, favors, and the Loving Memory candle.
I am so happy to have met the Bailey and Pratt families and to be included in Lauren and Mike's gorgeous wedding celebration. Having a strong personal connection with my couples and their family is one of my favorite parts of my job!
Thank you, Lauren, for taking the time to share your kind words:
"I found Ellen's work on my venue's Instagram very early on into the wedding planning. The beautiful map and calligraphy work caught my eye and truly inspired the rest of the design for my wedding. From the moment I met with Ellen, she understood my vision and and my design goals and truly put me at ease. There was such a sense of trust I had with Ellen from the moment I began working with her. She took my vision and brought it to life, creating beautiful save-the-dates, invitations, a custom stamp and calligraphy on the outside of all envelopes. Everyone who received her work in the mail could not believe how special, unique and ornate her work was and felt like they received a present in the mail when our save-the-dates and invitations arrived. Being so far away from my family and people who could help my me and fiance with our mail-outs, having Ellen take that pressure off of us allowed us to focus on other aspects of the wedding. She had a clear timetable and followed it perfectly, and all I had to do was wait for our beautiful save-the-dates and invites to arrive! I truly cannot put into words how wonderful it was working with her; her work is amazing, but meeting and getting to work with Ellen was the great gift. She made me feel special and excited about the wedding planning process, something that can seem awfully stressful and daunting. I really cannot put into words how amazing Ellen is and feel very fortunate to have had her every step of the way. I am now a customer for life!"
Stunning Photos by Rachel Halsey Photography
Florals by Flower Kiosk
Venue-Wentworth by the Sea Country Club