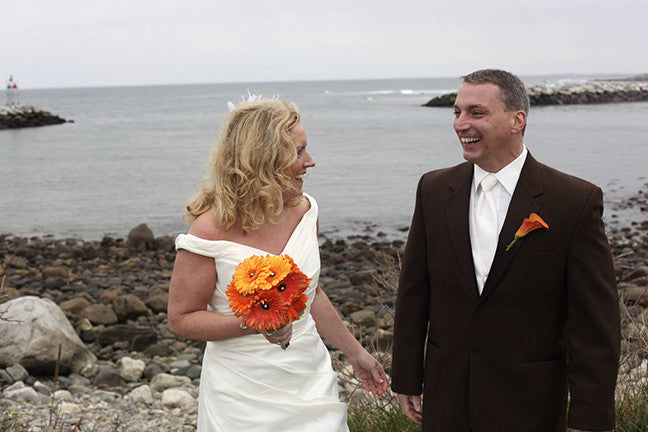 Although I have created many wedding invitations, designing all the stationery for our own wedding was my very favorite (of course!). That said, I had a lot of ideas, a lot of color, and it all came together exactly as it should have.  We are celebrating our eight year anniversary today, so I thought it was a perfect day to post our own Real Wedding Gallery!
Our wedding stationery was a celebration of "firsts"!  First map...ever! Can you tell? It is one of the most simple maps I have created to date, but our guests totally enjoyed it.  This was a good indicator that it would be popular in the future as a best selling product- and the maps absolutely have been!
It was also the first time to print artwork on the envelope of the invitation.  Our guests commented that receiving the envelope was like getting a gift in the mail. We had a watercolor lilac design on the invitation, envelope and reply card. Then on the reception card, I painted a picture of a cake like the one I asked our baker to create...and when we saw the cake it was exactly the design I had created for the reception card. A great surprise!  Of course the envelopes were lettered by hand in calligraphy in Elscript style (at the time, this was the only style of calligraphy that I offered). 
We sent the first glimpse of the day with a card with our names on the diagonal giving some little details about the day.  These cards had hand painted gerbera daisies (my wedding bouquet flowers) on them.
For the ceremony, I did my first ever church painting of a church on the cover.  The Little Harbor Chapel was the perfect size for our small wedding.  My good friend Angelique did a reading about a tandem bike that she wrote herself, so I added a bike for 2 leaning up against the church.  We put a tissue in an envelope in the back of the program "for your tears of joy".....always a fun detail that our clients love to add to their own programs.  The ceremony was done by a good friend, Liz Korabek-Emerson.  She wrote the vows and they were tailored to us...lots of humor and done with love.
One of my favorite parts of the ceremony was the ring passing.  We had our wedding bands strung on a ribbon.  My godson David held the rings and got things started.  The rings were passed around the entire church, so everyone was able to touch them and then pass them on to the next guest.  It was a special feeling to know that all of our family and friends had held the bands before we put them on each other's hands.
When the guests entered the reception location in Portsmouth, they were greeted by a hand painted seating chart with seating assignments in calligraphy.  All of our tables were named after places where we had gone on trips together (or just favorite spots!).  Of course I couldn't just have the lilacs as our flowers...we had gerbera daisies on the table signs, favor tags, and place cards. Each couple received a gift bag with stationery, candy from one of my favorite chocolate vendors, and a flower pen!  The bags were decorated with some fun mixed papers that I found and loved with all different designs.  They coordinated with each table's menu covers.  The food was amazing-as always! Jumpin' Jays is our favorite restaurant in Portsmouth-hands down the best food!
It's worth mentioning that we had 3 cakes in 4 different flavors! As Bob would say, he's never met a baked good he didn't like-and I agree.  Our large cake was super delicious devil's food with a coconut cream filling.  The bottom layer was vanilla with a raspberry filling.  I got Bob a surprise groom's cake (spice cake....his favorite) shaped like a Corvette.  And my godson's birthday was the day after, so he had a cake shaped like a party hat.
For my bachelorette party, the girls took me to my favorite shop in Portsmouth, Anna Street Studio (which sadly is no longer there!). Little did they know that I had used the wedding colors of periwinkle and spice to create custom bags for each of them as their bridesmaid gifts! 
The best part was marrying my best friend. The thing that nobody told me before we got married was that it would change our relationship....but in the best possible way.  I'm happy to report that we are both still smiling today.  We are growing El's Cards together and we are both so excited about what the future will bring!
Would you like us to create some special invitations for your own wedding?  It would be our pleasure!  Reach out any time and we are happy to get right back to you to make your own wedding stationery dreams come true!
Wedding day Photos by Liam Crotty
Cakes by Black Bunny Bakery
Reception Venue: Jumpin' Jay's Fish Cafe
Stationery by us, El's Cards!
SaveSaveSaveSaveSave
Save
Save
Save
Save
Save
Save
Save
Save
Save
Save
Save
Save
Save
Save
Save
Save
Save
Save
Save
Save