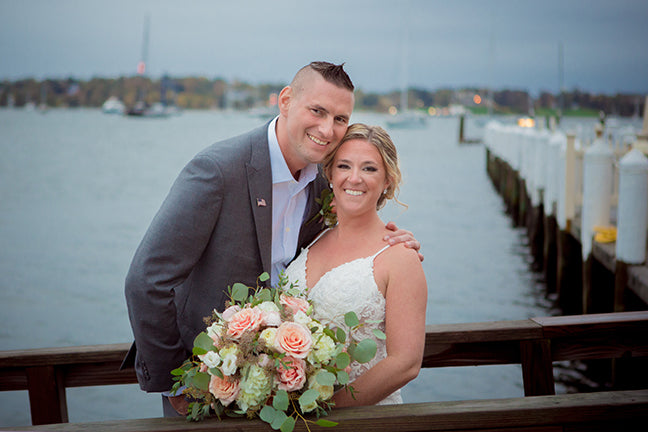 I received this kind note from one of our last weddings of the year- not long after we had worked together.  Amanda sent along some beautiful photos of the wedding day.  She found us later in the planning stages, so we did all the wedding day items for her and Pete, the groom.  Thank you Amanda, for this thoughtful note!
Also, read a wonderful interview with this sweet bride on the Engaged in Southern New England blog!
AND Amanda was also featured on the Sara Zarrella Podcast about having a rain plan for your wedding day!  Listen here on Apple Podcasts or here is a link to the show notes!  It's a great listen :)
Hi El!  I hope you are doing great!! Our first month married has been absolutely wonderful: and our wedding was everything we dreamed of and more!!! Even with some rain in the day, it was a perfect coastal Newport wedding!!!!  We received our gallery of photos, and they are absolutely incredible!! I am so ecstatic of how every detail came together!! It was our picture perfect day, and our photographer is the best of the best and got incredible photos!! 
I cannot begin to express how truly thankful I am to have found you during our wedding planning. Your work is such a gift, and is my exact taste! It added so much color and many personal touches to our day that all of our guests were in awe of! I am so grateful for you, and am excited to continue to be able to purchase from you and share your name with others!! Also, we will be mailing out Christmas cards this week, and already have one ready to be sent out to you and Bob! I wish you the happiest holiday season, and I would love for us to stay in touch!! :)
Working with Amanda was an unexpected surprise for 2022.  She got in touch with me in the summer after seeing all the wedding artwork I did for one of her dear friends.  Newport is such a beautiful area, and I was thrilled when this fun bride reached out about custom decor items for the wedding day!  She and Pete were going for a seaside theme with pink and gold accents and we had some great artwork to fit their needs.
We used our sailboat design and a Newport bridge painting for the table names and some custom welcome signage.  Amanda had requested that we put a heart on the sailboat as part of the design.  My favorite part of working together was the custom map element!  I created a sign in board map of Aquidneck Island especially for Amanda and Pete.  We used the wedding colors and left plenty of space for guests to write a little note to the happy couple.  We also customized our existing Newport map and created a schedule of events for the guest welcome bags.
Another favorite wedding day feature was the signature drink sign!  I've really been getting into painting these drinks for people lately.  Their drinks were the Amanda-rita (strawberry margarita) and the Neat Pete (Dewars-on the rocks or not!).  
We always enjoy working with our clients from start to finish on all the wedding items-but it's also fun to create special wedding day items if our couples find us after the invitation process is complete.  We can only take on a few such projects each year, but it's always a fun addition to the schedule if we can accommodate.  AND we even got to meet Amanda and Pete! Many of our clients are from other parts of the country, so we do all communication via email and the phone.  We happened to be doing a craft show in Newport the weekend before Amanda and Pete's wedding, so they met us (early in the morning!!) for the hand off!  I'm so glad they did!  
Thank you, Amanda and Pete, for letting us be a part of your day.  And for allowing me to be creative with some of your ideas. It is an honor when our clients just trust me to "do my thing" like you did!  Wishing you a lifetime of happiness together-and I'm happy to still be in touch.  Hope we cross paths the next time we do that Newport show.
Photographer-Faith Dugan
Venue-Regatta Place, Newport
Florals-Sarah Milanese