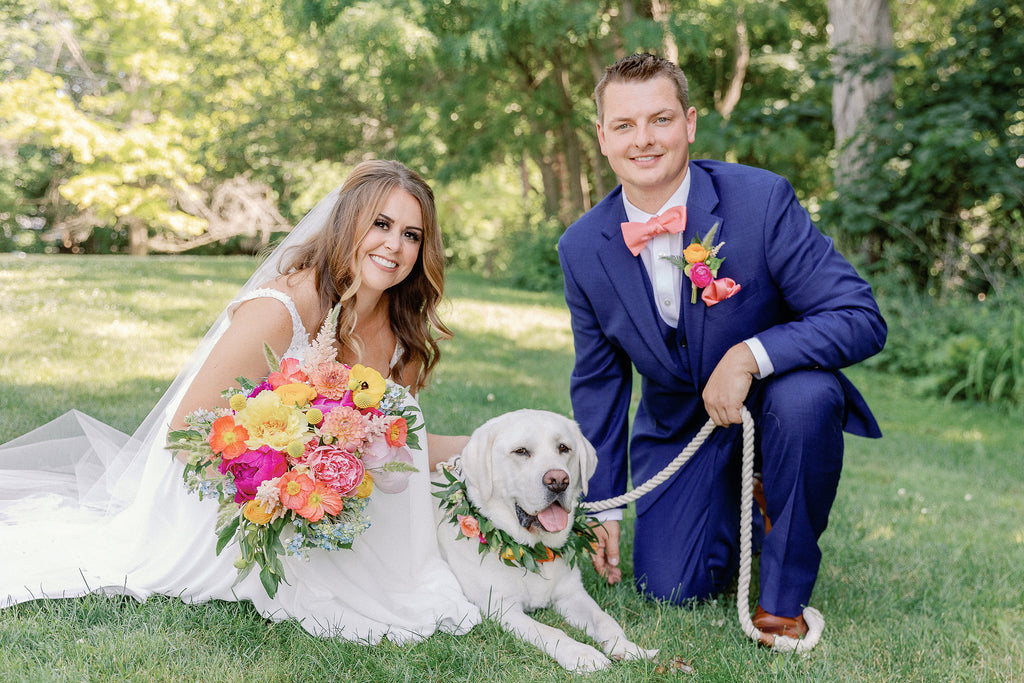 Working with Liz in 2022 was a complete delight! We are absolutely kindred spirits-from our love of color and flowers...to the name of our beloved furry friends (Our Marty the cat and Liz and Trevor's Marty the dog!) and so many more little things!   And how we met!  A few years ago we did a small show in Woodstock, Vermont for Christmas and Liz bought a map from us there.  When it came time for wedding invitations, Liz remembered us!  We have never done that show again since that one time, but if it weren't for that small event, Liz and I may have never met!   
And another exciting part of Liz and Trevor's wedding-it was featured on Wedding Chicks!  Photos by Jenna Brisson were absolutely stunning.
Thank you so much, Liz, for this thoughtful review. I am soooo excited to finally be able to go through the many photos to select my favorites for your gallery! :)  
El's work is INCREDIBLE! I hired El to make all of my wedding paper goods for my June 25, 2022 wedding, and I can't find the words to properly articulate how immensely thankful I am that I found her. From our first phone call, we hit it off. I love LOTS of color (she does too!) so we had a lot of fun creating our custom wedding invitation suite, including a custom map and watercolor of our venue, a custom wedding crest, custom menus...she even incorporated our beloved dog, Marty, into our wedding map.
As if our blueprints weren't enough to be excited about, getting products in the mail was such an exciting experience. The quality of what El and Bob are able to print is second to none. The paperstock is thick and soft, and the framed pieces we ordered were better than I ever could have imagined. We also ordered custom napkins and lawn signs, which were perfect for our wedding weekend! El is extremely kind, professional, communicative, collaborative, receptive to feedback and an overall warm, amazing person. After having communicated almost daily for a few months on wedding designs, I genuinely feel like I found a new, lifelong friend in El.
If you value supporting local artists and receiving high-quality, custom artwork for your event, hire El. You'll get beautiful papergoods that receive countless compliments and leave with a new friend. Thank you for everything, El & Bob! Xo
There were so many parts of this wedding suite that I loved! Most of all, it was so wonderful that Liz trusted me to just do my thing!  Liz told me what colors she wanted to use (all of the happy, fun colors!), and gave me the overall vision for the stationery, but after that she let me design to my heart's content!  
I loved creating the custom invitations featuring the Basin Harbor painting of the lake view from the colorful Adirondack chairs on the grassy shore. And there was the custom map with all the special locations highlighted...more flowers...and of course, sweet Marty!  We pulled the "Massachusetts towns" sign into the table signs-another of Liz's great creative ideas!  And of course Marty took center stage on the favor sign and the signature drinks sign.  The full map painting was used as a guest sign in board in lieu of a guest book. I'm all about multi-purposing all custom elements in the wedding day!
But the watercolor crest was my very favorite feature of this fun and colorful wedding stationery!  Liz sent me photos of flowers that she liked and told me what flowers would be used in the wedding day flowers. Coral pink and periwinkle were the stars of the color show!  After hand painting the crest, I pulled the different floral elements into the different wedding stationery pieces-envelope liner, guest and reply envelopes, and then on the wedding day signage and menus.  We used the full crest on so many items to catch the eyes of Liz and Trevor's special wedding guests-as you can see in the gallery.
Thank you so much, Liz and Trevor, for allowing Bob and I to be part of your celebration (from afar)!  And I am so happy we are staying in touch.  Working together was surely a HUGE bright spot in 2022. Wishing you both a lifetime of Love and Happiness together.  xoxo -El
Wedding Photographer-Jenna Brisson
Venue-Basin Harbor
Wedding Flowers-In Full Bloom