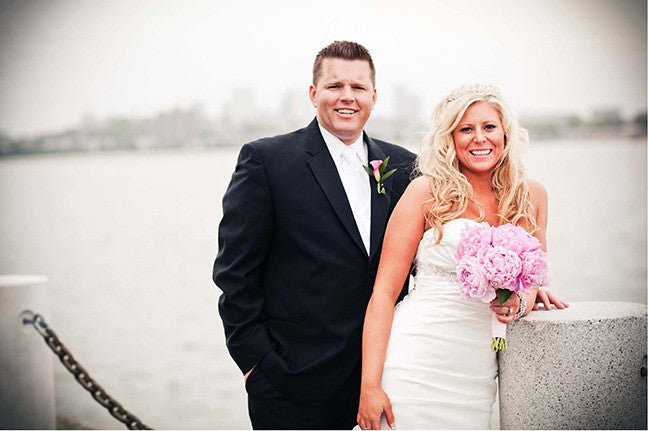 It was my pleasure to meet Colleen about 10 years ago at JetBlue.  We were working together as inflight crew members based in Boston.  When it came to be time for Colleen's wedding invitations, she got in touch with me right away. It was very flattering because Colleen is a super creative person herself!  The bride wanted a peony design, and was using black and white with a hint of pink for their wedding colors.
The custom invitation had a bold peony watermarked in the background, with a deep pink border.  The black envelope had white calligraphy done by hand on the envelope (one of my favorite combinations to this day--deep colored envelopes with white lettering!) 
We stayed with the peony theme for the program, and the seating chart and table signs were bold in black with white calligraphy.  Then for thank you notes, Colleen selected a skyline of Boston.
Since then, Colleen and Keith have had 3 beautiful girls!  Thanks so much for letting me be part of your special wedding day, Colleen and Keith!  I love your creative spirit, Colleen-you are always trying something new!