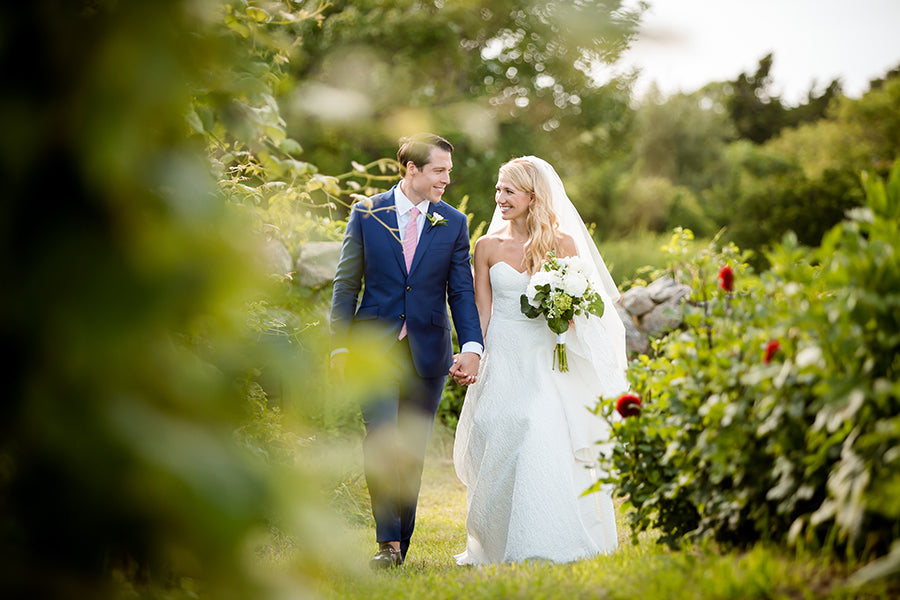 Claire reached out to me about her Martha's Vineyard wedding with not a lot of time to spare!  Martha's Vineyard is one of our favorite places (we went there for our anniversary trip last year) and I was so excited about creating some beautiful wedding day paper goods for Claire and Erek's wedding festivities.  We talked about what she had in mind, and I got right to work.
The bride was very enthusiastic about creating some special paper goods for her August wedding.  We designed some things especially for the happy couple.  The first piece the guests would receive would be the Martha's Vineyard map with a schedule of events that outlined the weekend activities.  The schedule of events is a fun little extra piece that has been so popular with our couples this year.  It has little illustrations next to the featured events.
We then started talking about the program, menu, and escort cards.  Claire decided to have a custom design for her programs and menus that featured a soft hydrangea and berry design.  The table numbers also had this same artwork.  All three items were in a different arrangement, so they were harmonious, but not exactly the same.  I can't wait to add this design as a new invitation suite.
For the rehearsal dinner (a lobster bake), the bride selected our traditional lobster escort card and the buoys table number.  I loved seeing the photos that the bride sent to me with our cards on the guest tables!  Seeing our work in the venue is so fun.  Claire's selections were perfect for her venue and wedding decor!   All of the escort cards and table numbers featured hand written calligraphy.
I am so glad that Claire found us!  Working with this bride was really enjoyable!  She was open-minded to my suggestions and ideas, and really trusted in the creative process. I've said it before, but it's worth saying again....I have the BEST job and am so happy to work with the best people!  Thank you, Claire for reaching out when you found us!!  We both wish you and Erek a lifetime of happiness together. 
Thank you so much, Claire, for your kind words:
El was an absolute pleasure to work with. I stumbled upon her site by chance in the final months of my wedding planning and from the moment I reached out, El was the most lovely collaborator. She helped me pinpoint my vision and kept me on track with a clear schedule. She was incredibly helpful and responsive and listened to all of my feedback, creating pieces that were even better than what I had envisioned. The day of paper goods for our rehearsal dinner and wedding were the perfect final touch and even more beautiful in person. Multiple people came up to me to ask if they could take a few extras, and so many people have sent me pics of our Martha's Vineyard map framed or prominently displayed on their fridges. I am so happy I came across El and her beautiful work. I will definitely find an excuse to work with her again in the future!
We are delighted that Claire and Erek's wedding has been featured on Over the Moon.
I loved reading their story and seeing the wedding video and gorgeous photos!  Take a look!!

Thank you for the beautiful photos: Joe Mikos
Wedding video by Happy Camper Film and Video
Planning by Plan It Martha's Vineyard
Beautiful Flowers by Of the Vine
Wedding Catering by V. Jaime Hamlin and Sons
Tent from Big Sky Tent and Party Rentals
Rehearsal Dinner Caterer - Bill Smith Clambake
Save
Save
Save
Save
Save
Save
Save
Save