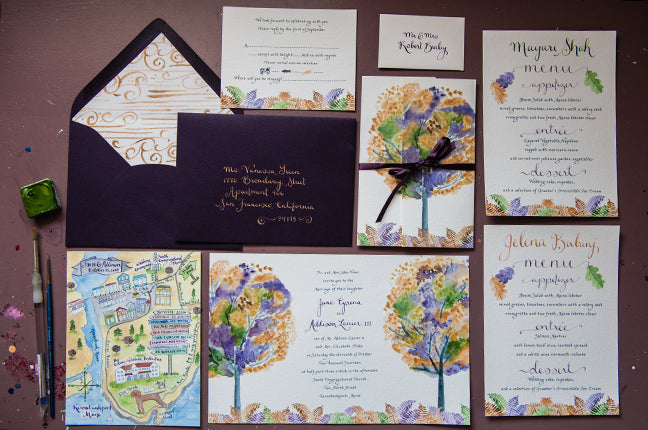 Jane and Addison first reached out to me about creating invitations for their October 2014 wedding, when they were passing through town and were hoping to schedule a time to meet.  They were so flexible and came to meet me at the Greenland Craft Show!  Despite the crazy parking situation and hoards of shoppers, we were able to sit down and talk a little bit about what they had in mind for their wedding stationery. I knew from our first meeting that this project would be one of my favorites.
Jane and Addison were referred to me by my talented friend, Meg Simone...creator of the best wedding films! Meg created this wonderful short film that includes so many of this couple's custom wedding details. 
Our first item to create was the invitation.  The couple selected our autumn trees tri-fold invitation, with an aubergine envelope and hand written gold calligraphy.  I added some hand painted fern artwork and changed the original invitation to feature their wedding colors of plum and gold.
Jane had so many ideas to make the wedding really special and personal for their guests.  She and Addison had so many fun events planned for the weekend, and they asked me to create a special map highlighting some of these events....including their fun run route, dog parade (featuring their beloved 4 legged friend, Rutty), and a sign featuring many of their special places...among other important wedding weekend Kennebunkport landmarks. There was a copy of the map and with the schedule of events printed on the back in each of the welcome bags. This was a special, unexpected treat for the guests. The couple had me put a mat around the map and they used it at the reception in lieu of a guest book.
The couple had me do a custom watercolor painting of the church where they were having their wedding ceremony.  We printed it on the cover of their ceremony programs to be given to all of their honored guests at the door of South Congregational Church.
Jane and Addison's wedding didn't miss a detail!  Each guest had their name written in calligraphy at the top of the menu that was at their place at the reception tables.  We did two different styles of table numbers...one with ferns and one with autumn leaves.  Guest seating assignments were written on a small card that was placed in a cream envelope with aubergine calligraphy. Little known fact....I created my "Jane" style calligraphy specifically for this wedding!
There was lots of fun signage too....for the ice cream flavors, trolley pickup, signature drink--The Jaddison, and the Key to Happiness board.  This needs to be seen to be appreciated!  Each antique skeleton key had a ribbon attached to it with a little tag that said "They key to happiness is...." for the guests to write their thoughts on the back of the tag. There are great shots of this beautiful display in Meg's video above!
Working with Jane and Addison was truly a wonderful experience!  It is so much fun when I make a great connection with a wedding couple and we get to stay in touch!  I'm happy to announce that this couple just brought home a sweet, baby girl, Emery (Rutty has a baby sister!)  And right around their 3 year wedding anniversary!  So much to celebrate!  Thank you, Jane and Addison, for having me be a part of your wedding day and keeping me in the loop of all your happy news.
Wedding film by Meg Simone Wedding Films
Florals and Planning by Beautiful Days
Invitation and cover photos by Melissa Mullen
Venue: Colony Hotel, Kennebunkport
Save
Save
Save
Save
Save
Save
Save
Save
Save
Save
Save
Save
Save
Save
Save
Save
Save
Save
Save
Save
Save
Save
Save
Save
Save
Save
Save