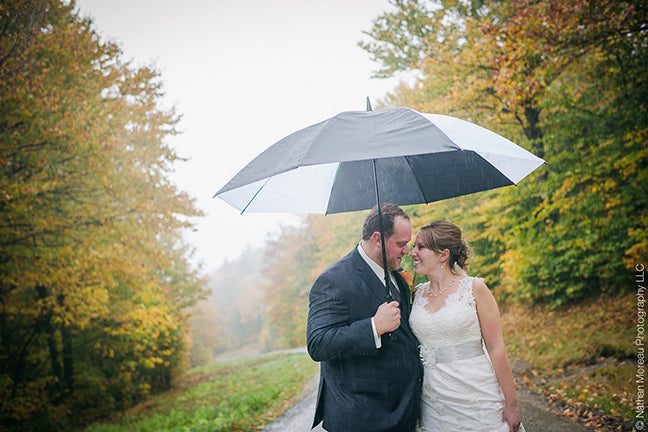 We loved working with this fun couple!  The bride loved color and we created a special version of the fancy autumn trees invitation just for them.  The chairlift in autumn design was a custom painting created especially for their ceremony programs. 
I loved seeing these photos!  Even though the day wasn't sunny, the expressions on Caitlyn and Andrew's faces are the best!  Caitlin sent me this sweet note with comments from her guests...so thoughtful!  Thank you so much, Caitlyn and Andrew for letting me be part of your Wedding day. 
Hi El,
Thanks for checking in - ironically I was working on setting up a document to keep track of RSVPs as your email came through! They have been trickling in and people have been LOVING the invitations! I copied some of the messages I have received for you to see:
- Got your invitation yesterday! So pretty I didn't want to open it!!
- These are GORGEOUS!!
- Umm I haven't even opened the envelope yet and this is gorgeous!
- Your invitations are so beautiful! I need that lady's number!!!
- Got your invitation today! They are so pretty!!
- Your invitation is literally the cutest thing I have ever seen
- In love with your wedding invites!! They are beautiful!!
- Invitations are gorgeous. Packaging was so beautiful that it just gave me tears of joy!
- Are you kidding me with this invite? It's too pretty to open!
- I can't handle it. The burlap and the little s'more?!??!!!
- The invitations are beautiful!!!
- Your invites are incredible!!! I love them!
- Just got your wedding invite, it is beautiful!!
 - I absolutely LOVE your invitations!! Seriously can't wait for that weekend :)!
- LOVE the invites!!!
Thank you so much for creating such beautiful invitations that have gotten exactly the kinds of responses I had hoped for! I finished writing my thank you notes from the shower, so I'm excited to get those in the mail- thank you for sending extras, I ended up using all of them! I'll be in touch with program info as we figure it out, and we are working on our seating chart lists as the RSVPs come in.
You have been so attentive and your work is so beautiful that we can't wait to see what's next! Thanks so much!
Caitlyn
Photo credits: Nathan Moreau Photography
Melissa Mullen Photography