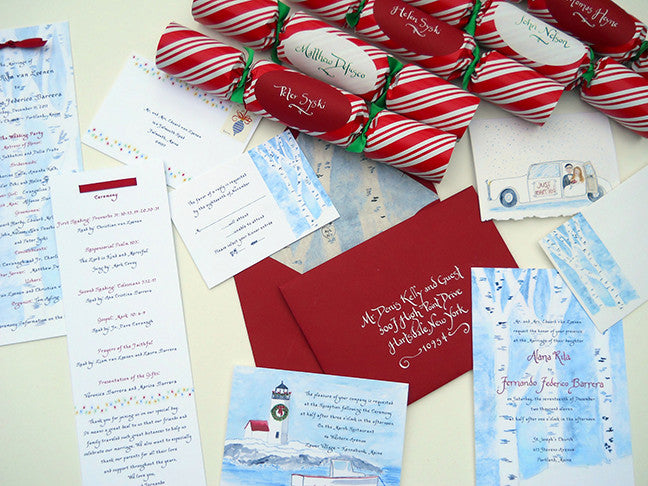 The paper goods for this custom Christmas Wedding were created just for Alana and Fernando. I had set up a meeting with Alana and her Mom and had a few ideas I was going to bring. At the last minute, I received an email from Alana with a photo of their initials carved in a birch tree...and knew this was the direction where we would head! The Winter Birches design was born!
Alana loved the idea of the red envelope with white calligraphy, and a winter birch tree envelope liner with the couple's initials carved in a tree. I painted Goat Island Light with a festive wreath and a lobster boat as a nod to Christmas in Kennebunkport, Maine.
For the ceremony, we created a simple flat program with birches in the background and a red ribbon on top for a pop of color. Alana had a great idea to order English Christmas crackers, and we put a oval label with calligraphy designating the guest's food choice. The seating chart was one of my favorites ever! Birch trees with the initials in the trunk and 2 sweet birds on a branch representing the couple. Last but not least was the whimsical portrait of Alana and Fernando that were on the thank you notes.
Since then, I have created a couple of custom gifts for Alana...since she is now a Mom! It is so great to stay in the loop after we finish the invitations process! Thanks Alana and Fernando for allowing me to be part of your beautiful Christmas wedding!
"Thank you so much for everything!! People have been asking me about who did everything for the calligraphy for the wedding, and now I have been getting such awesome feedback on the thank you notes!! People love the picture of me and Fernando in the car! It is so sweet! Thank you again for such a fantastic job you did on everything for our wedding!" -Alana, bride- San Antonio TX (invitations, calligraphy and assembly, ceremony programs, seating chart, Christmas crackers place cards, thank you notes with custom whimsical portrait)
The invitations are fabulous!! They are so unique and personal. I mean it when I say I don't understand why all brides don't work with you!! I will continue to spread the word.
-Joanne, mother of the brides-Alana and Janina (2 daughters married in one year!), Falmouth, ME (save the dates, wedding invitations, calligraphy and invitation assembly, programs, place cards, table signs, seating charts, thank you notes )
Wedding day photos by Debbie Harmon.